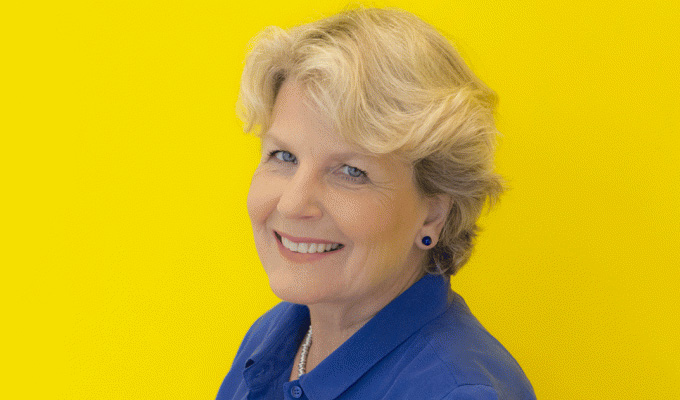 Sandi Toksvig Live! National Trevor
Charming, witty, curious and chirpy, Sandi Toksvig might be on many people's lists of ideal dinner party guests. And her live show pretty much offers the chance to simulate that experience without having to sort out the catering.
'Just an excuse to get together and have a chat,' is how she describes it herself; the show's stated themes of celebrity, death and seizing the day often sidelined as she holds court on whatever has caught her eye.
The 'National Trevor' monicker is something of contrivance, a title she wants to confer on any small acts of positivity, and she spends a little too much time in the first half trying to explain away the terrible pun, seeking candidates for that title in the audience, and setting out her loose agenda, especially bemoaning the youngsters whose ambition is simply to be famous – for what, they do not care.
Indeed, the show takes a while to find its course. Pre-interval, a few common punchlines are raised, from builders' low-slung trousers – this doyenne of middle England is, of course, having her house done up – to Jesus having fewer followers than any tweeter. And a segment about the sex predators of 1970s TV doesn't have any sort of joke that makes it worth reminding us of their awful crimes, a sour note that's out of place with her indefatigably upbeat nature.
What Toksvig has that few other comedians – even the most-celebrated ones – can claim is the almost unconditional love of her audience. The breezy likeability she exudes is reflected back two-thousand-fold, and we all bask in a mutual warmth.
Her passion for both people and for knowledge is infectious, too. Fans from QI, especially, will revel in her spreading of arcane titbits of knowledge. I daresay Toksvig is the only comedian with material about
Cheomseongdae, a 7th Century astronomical observatory in South Korea… which as the co-founder of the Women's Equality Party, she uses to quietly illustrate a feminist point.
Elsewhere we learn more about Lord Byron, pioneering Scottish surgeon Robert Liston and Orkney warlord Sigurd The Mighty – one of a string of comedy deaths she shares with us. The audience even get to take part in a true-or-false quiz, full of fascinating trivia.
Toksvig also has a fantastic chunk of 'found comedy' in digging out some awful books that have somehow made it to print, of the kind that Robin Ince's lamented Book Club used to revel in.
On the topic of fame, she speaks warmly of her father, for a long time the most famous man in Denmark, as 'never less than charming' and hopes that she can try to follow in his footsteps. Job done, on the evidence of this show, which might be more 'audience with…' than stand-up, but is consistently entertaining.
Toksvig is full of anecdotes from her own long career in the limelight, from saving a grand dame of romantic fiction from drowning in her soup to being recognised on the toilet, the maximum humour extracted from each situation with the same skilful timing she applies to the odd shaggy-dog story.
Full of positivity, her show might be described as an ode to joy had Beethoven not nabbed the title first in the rousing piece which Toksvig co-opts for her finale. If there's a political undertone in picking the piece of music that's also the anthem of the European Union, then it goes unsaid. Toksvig is all about bringing people together, not driving them apart, after all.
• Sandi Toksvig is on tour until February 8. Dates
Review date: 21 Jan 2019
Reviewed by: Steve Bennett
Reviewed at: Royal Festival Hall
Recent Reviews
What do you think?