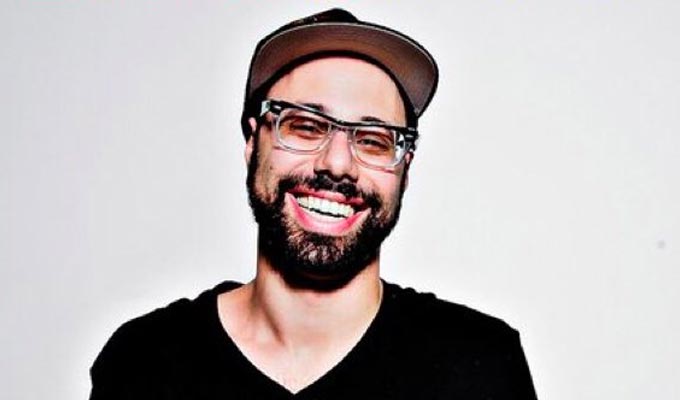 Comedians Of The World - Dave Merheje: Beautifully Manic
Canada's Dave Merheje gives Britain's Lee Evans serious competition for the title of the most animated stand-up of modern times.
He blasts out his comedy at a thousand miles a minute, a frenetic stream of words illustrated with a dynamic physical performance, arms flailing around like a man trying to do semaphore while receiving 50,000 volts.
Whenever this manic energy pauses, the audience bursts into applause, the punchlines clearly indicated by the rare moments of silence from the stage.
It is a comedy gig of pure performance and of first-hand storytelling with gags very much relegated to third place.
Merheje's content concerns him being a second-generation immigrant from Lebanon. His mum is pushy and over-fussy – even now he is an adult, still fretting about what he's eating and whether he'd catch pneumonia.
Dad is old-school masculinity, bottling up all his feelings – except when he's on the sidelines of a soccer match, when he gets hyper-aggressive in his support and criticism. Even if the players are only ten years old.
There's tension between the parents and they argue bitterly, with harsh barbed insults, divorce apparently not an option for such a traditional couple.
Merheje offers some diversions from his upbringing, including a complaint about how loud teenagers are – he's one to talk!– but such diversions are few. Even this is largely to argue that kids should be hit occasionally, as he was, to learn their place.
The image he creates is a broadly funny one, his family situation possibly a sitcom-in-waiting, though specific punchlines are hard to identify, and the archetypes of his parents, though undoubtedly accurate, a little too familiar.
Ultimately, Beautifully Manic is something of a triumph of energy over material.
• Comedians Of The World - Dave Merheje: Beautifully Manic is available on Netflix now. Click here to watch
Review date: 5 Jan 2019
Reviewed by: Steve Bennett
Recent Reviews
What do you think?