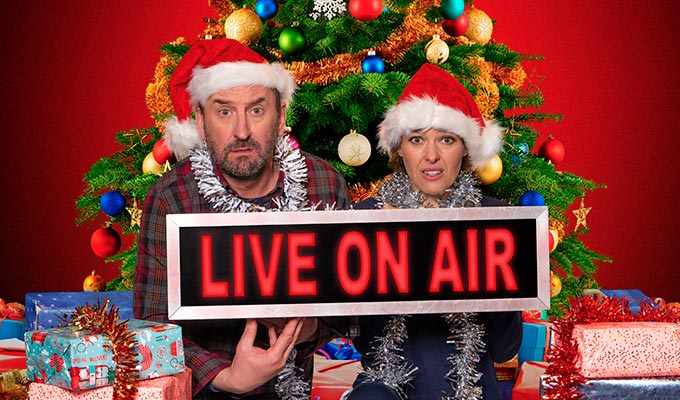 Not Going Out live episode
Not Going Out needed something to stand out. Lee Mack's sitcom, bubbling away in its ninth series, is a dependable, familiar part of the schedule, reasonably funny but probably not top of anyone's list of favourite comedy shows.
A live show is harder to ignore, something to stand out in the crowded Christmas TV market. After all, 'people love a bit of jeopardy'. Not my words, but a typically self-referential line from Mack's character Lee, setting up the premise that he and wife Lucy (Sally Bretton) were organising a school variety show.
It's a good set-up for stunts to play with the live format: Lee juggling eggs, grappling with a tongue-twister and throwing knives. Or, just as impressively, Hugh Dennis and Abigail Cruttenden's characters Toby and Anna singing Tom Lehrer's The Elements – the periodic table set to a very brisk Gilbert and Sullivan tune – with the added complications of altered lyrics and recited while having an argument.
For all the aforementioned jeopardy, it was all executed very well. Perhaps a little too well to make the most of its 'liveness'. Bretton fluffed a line early doors, but even that seemed intentional, allowing Mack to quip off the back of it. But other than a boom mic drifting into shot at one point and the odd ill-framed camera shot, you would think it was recorded.
So the joke was about knowing references to the show being live rather than making the audience feel the adrenaline. Contributing to that was not making the studio audience part of the show, despite Lee's vast experience with a live crowd. Perhaps producers felt Mrs Brown's Boys had got there first by putting the punters in shot, but it made a lot of Not Going Out's laughs feel canned.
Was it really funny that prop-makers spoofed up a newspaper with an actual headline from the week about Jeremy Corbyn's Commons mutterings? Yet it got a huge laugh. Thankfully the gag it was telegraphing was actually funny. You don't want for gags in an episode of this sitcom, even if some are predictable. Two minutes to kill? Lucy suggests sex. 'What twice?' is the obvious response.
But to quote another of Lee's knowing lines from the script: 'You can get away with anything in a Christmas show'
A live version of Not Going Out was never going to be as inventive as Inside No 9 doing the same – real-time tweets, big plot twists and all. But true to form, it's was safely, but not excitingly, funny.
Review date: 22 Dec 2018
Reviewed by: Steve Bennett
Recent Reviews
What do you think?