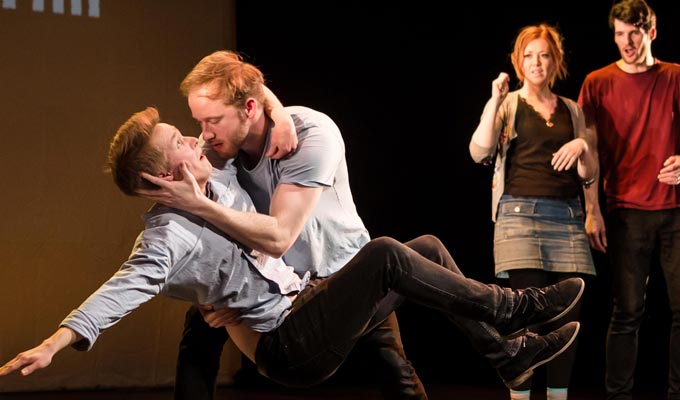 Shoot From The Hip: The Big Christmas Show
Improv troupe Shoot From The Hip have done a remarkable job of building up a grassroots audience, and now have residencies at three London comedy clubs – Top Secret, Angel and Up The Creek – plus the occasional bigger gig, such as this Christmas special at the Theatre Royal in Stratford, where they can fill the venue.
The first part of their show comprises the familiar Whose Line Is It Anyway?-style improv games. It's odd that the improv format that promises a new show every night is at the same time predictably constant throughout the decades.
So there are the usual games such as 'Die!', which is what the audience call out when an improviser stumbles when picking up an unfolding story; 'Change' in which an MC demands an actor change the last line he said; or the dependable old favour 'film and theatre styles'.
The five performers also perform a looser selection of sketches allows more freedom. Then, after the interval, a longer-form exercise creating a single 40-minute narrative based on the audience-suggested title, tonight about the Lost Kingdom Of The Elves.
Sam Russell is probably the alpha of the group, and has a nice line in exaggerated central characters (including a wastrel Santa). But it's TomMayo who proves himself the sharpest comedian of the quintet, frequently coming up with actual gags, or lines that cleverly get the team out of a hole.
It is not always so; most of the laughs come from the quintet shrugging off the mistakes and stumbles they frequently make, or the way the plot has become convoluted by their spur-of-the-moment decisions. This seems a bit of cop-out, and a little frustrating, since the very best improv groups can create narratives that hold together while being funny in their own right, rather than relying on their screw-ups.
Disappointing, too, are their singing skills. When 'musicals' is suggested as a theatre style for that game, it's kept back to the end, as if to promise a rousing finale. Yet all they can manage is two rhyme couplets sung half-heartedly. Showstoppers it ain't,
But the caricatures conjured from the top of their collective head are cheekily entertaining, and for all their technical shortcomings, Shoot From The Hip perform with a confidence and a verve that means their audience don't notice. Or even care, since a good time is had by all, everyone entertained by the spontaneous snafus.
Review date: 17 Dec 2018
Reviewed by: Steve Bennett
Reviewed at: Theatre Royal Stratford East
Recent Reviews
What do you think?