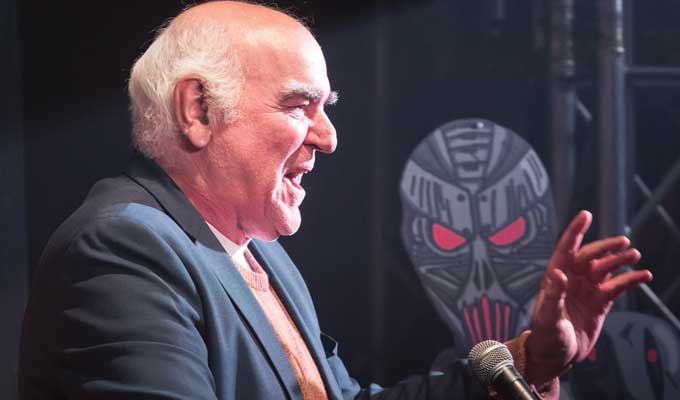 Fanatical
The main thing likely to draw a comedy fan to Fanatical – a new musical being staged at the Playground fringe theatre in West London – is likely to be Stephen Frost. The veteran Comedy Store Player plays Scott Furnish, the creator of sci-fi comic books, and now blockbuster American TV series Angel 8, whose fans have gathered at a convention to celebrate their beloved characters.
Frost doesn't actually appear until just before the interval – the will he/won't he plot about Furnish's attendance rather spoiled by Frost's billing on the real-life publicity. But his arrival – or rather more the pivotal plot point he brings with him – heralds a rejuvenation after a pedestrian first half.
Angel 8 is apparently a low-grade Star Trek knock-off with the devotees quoting trite lines from the show such as 'good guys don't give up on anybody' or its motto, 'stay true and staunch'. The script for Fanatical is often not much better with its thinly drawn characters and initially bland portrayal of this world, with sparse humour.
Trix (Suanne Braun) is the harassed conference organiser; Baxter (Eddy Payne) an over-eager teenage virgin, Bernard (Theodore Crosby) is the evil journalist out to make a Laughing Stock of the nerds, and Andra as the geeky fan who comes out of her shell in cosplay.
She's the focal point of the show and Sophie Powles (Holly Barton in Emmerdale), who plays her, is a charismatic lead, if a little bit too sassy, even given that her outfit (a half-arsed effort by the costume designer) gives her confidence.
They're a rag-tag band but all they need to pull through is some self-determination, teamwork and courage and yada, yada, yada. The emotional ride does not go boldly where no one has gone before, particularly the romcom strand: a putative relationship (set up after just two short conversations) is quickly derailed and almost as quickly resolved. This is musical theatre after all, some clichés are expected.
In the second half springs into life, once there's a bit of purpose, some playful humour (even if it is pretty broad), a lot more energy and the entertaining presence of Frost.
The songs are a mixed bunch too, some of the lyrics just seem like namecheck for geeky-type things, from GeoCities to Reddit without much affection. But there are some jaunty toe-tappers, too, such as the proclamation of love, Me Slash You.
But Fanatical far from out of this world, and even sci-fi aficionados might be disappointed at this simplification of their world, even if the portrayal is entirely sympathetic.
Review date: 17 Nov 2018
Reviewed by: Steve Bennett
Recent Reviews
What do you think?