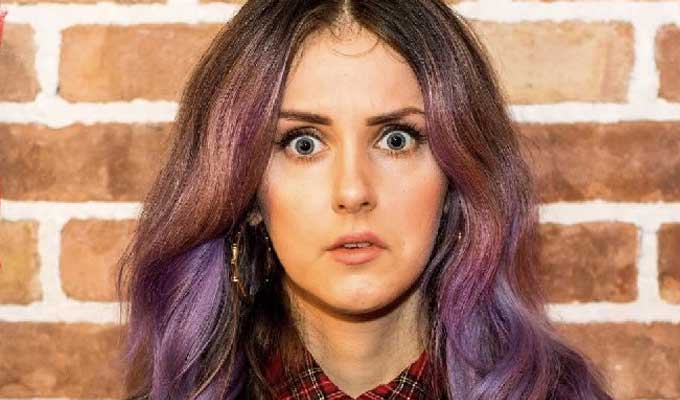 Vodafone Comedy Carnival: Lisa Casey and others
What difference a couple of hours and a change of venue makes… and what perfect evidence of how unpredictable factors make live comedy such a joy.
On paper, the 7.30pm show at the Vodafone Comedy Carnival should have been the big draw: in the plush Spiegeltent with a bill full of skilled headliners: Milton Jones, Kerry Godliman, Simon Evans, Totally Wired and compere Angela Barnes. In the event, it was far from full and rather subdued (see our review here)
So at 9pm, in a cramped room above a pub, with imperfect sight lines, a less experienced line-up and – horror of horrors – a hen night dominating the audience, the portents did not look good. Yet rowdy and rough-around-the-edges the Roisin Dubh comedy club may have been, it was certainly a lot more fun.
Host Martin 'Beanz' Warde personified that. He's certainly not slick and many of his disjointed gags might not stand up to strict critical analysis, even though he has an angle as Ireland's only stand-up from the travelling community, but his ribald nature matched the vibe of the room.
He entertained the all-female party, making them feel included without letting them dominate, and engaged in boisterous badinage with the rest of the room, shepherding the energy well.
Opening act Shane Todd's quiet style was a little adrift in this situation; when he remonstrated with the hen party he felt a little like a supply teacher ticking them off, heavy-handed despite an attempt to be matey. His material, much of it drawn from his life in Northern Ireland, is a little lightweight, even forgettable, based on such major events as, erm, trying to order a cup of tea in the States where they couldn't understand his accent.
Glasgow's Christopher McArthur Boyd has a modest conversational style, too, but in his case it's a little deceptive as he has a more innate control of the room. The relaxed appearance also conceals some deft punchlines.
He dipped in and out of conversation with the audience on matters such as his tattoos, adding another layer of fluidity. He's probably more of a craftsman than a great artist – but he is skilled at the way he applies that craft, with regular, solid punchlines behind the chat.
Lisa Casey had a very different energy from the boys, seemingly more vulnerable, distractedly chewing as she takes to the stage, a little like a rabbit in the headlights. But it's not nerves, more an inner certainty which means that despite her quieter personality she can get the audience to attune to her peculiar wavelength.
Much of her set describes her encounters with a therapist, as she's unafraid to appear slightly damaged. Discussing her issues so openly and with such a dry wit makes her thoroughly engaging, while subtly destigmatising mental health issues.
She has scoliosis, too, but her spine's not the only thing that's twisted, as she has a wickedly askew sense of humour. A couple of her gags admittedly seem a little contrived, but there are so many more amusingly wry punchlines in this tightly-written set. The overall impression is of an intriguing young comic – indeed she was crowned Irish comedian of the year at this festival last year. We're sure to hear more from her.
• In a more sedate afternoon gig the following day, the shortcomings in Warde's style were shown up a little more: his lack of focus in stark contrast to an alert audience, ensuring the gig never seemed to gel. He introduced Sean Hegarty whose one-liners seemed decidedly more hit-and-miss than his shorter set at the Best Of Irish showcase earlier in the festival and slipping more into 'dad gag' territory than Tim Vine-esque cheesiness.
Very local lad Paul David Murphy - he lives across the road from the venue – bored with tediously long set-ups, full of needless information, even if his punchlines displayed a droll Irish wit. Shame there were only about three of them amid all the bluster.
Finally, sparkly three-woman outfit The Nualas (now comprising Anne Gildea, Sue Collins and Maria Tecce) enlivened the gig with some classy harmonising, cabaret-style glamour, affectionate crosstalk and mild but witty jokes mocking various nationalities, but mainly the Irish, and Collins's tedious marital situation. They're great singers, even if the lyrics are more wry than laugh-out-loud.
Review date: 30 Oct 2018
Reviewed by: Steve Bennett
Recent Reviews
What do you think?