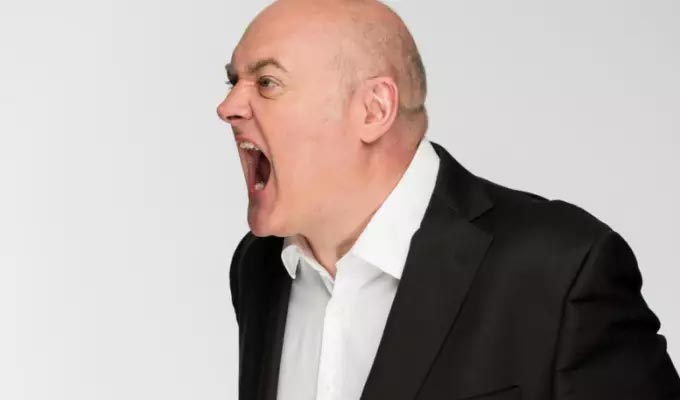 Dara O Briain: Voice of Reason
Middle age strikes comedians in many different ways. Some rage as their carefree youth sets over the horizon; some try to cling to wild adventure, offering a vicarious escape for audiences entrenched in their own mundanity; some grumble impotently as physical decay exposes the fragility all we hope to ignore; and others still settle comfortably into cosy observations of suburban family life.
While Dara O Briain offers several of these components – and is astutely self-aware enough to know when each element is in play – the overriding sense is of a plain-spoken, pragmatic fella content with his settled lot.
An early routine grumbles mildly about having builders in and redesigning his kitchen – and what could be more middle-aged, and indeed middle-class than that? O Briain then teases a twentysomething in the front row for being clueless about the terms of the trade being used, let alone the very concept of owning a house.
It's not the only time the comedian contrasts his life at 46 compared to 26, most explicitly in an anecdote about returning to the Australian comedy festival circuit, temporarily forgetting that he probably wouldn't have the same adventures now as he did as a carefree young buck. It's a tale that neatly ties together some themes of the hour, as well as providing an epic callback ('a cheap trick but you suckers keep falling for it', as O Briain affectionately mocks).
The aptly titled Voice Of Reason show is universal humour done exceptionally well, but while O Briain is the quintessential everyman, he's also attracting a slightly nerdy following given his TV projects have involved astronomy, maths, and warring robots.
A sweep of the front row at the Eventim Apollo unveils a nuclear physicist specialising in fusion and a quip about Cartesian geometry, a mini-treat for the geeks amid the far more accessible running joke he creates (as artificial but effective a technique as any prepared callback) about the dangerously under-qualified owner of a dental practice.
For he's not essentially a 'sciencey' comic, just as he's not essentially a political one – a skilful and knowing Brexit-inspired routine notwithstanding – despite hosting the news-inspired Mock The Week.
Such exposure means he's undeniably famous – certainly well known enough to be the subject of an hilariously misinformed fake news story about his own death – but you'd barely know it, given his down-to-earth approach. Though fiercely smart, he's still a simple man at heart, taking a childlike delight in being able to finagle an official US coastguard's cap or get praised by police for his crimebusting nous after his barely-used bike was stolen.
O Briain rattles through both material and his ad-libs so quickly that even if a gag passes you by, he's on to the next one before you notice, yet always building up to a bigger picture: so what might start as a commonplace observation about watching porn on a VR headset snowballs into a brilliantly farcical image.
And on a larger scale, this hugely entertaining show builds momentum to its big ending, a crowd-pleasing climax to a couple of hours that may not have any outwardly grand ambition, but is guaranteed to deliver the laughs.
Review date: 22 Oct 2018
Reviewed by: Steve Bennett
Reviewed at: Eventim Apollo
Recent Reviews
What do you think?