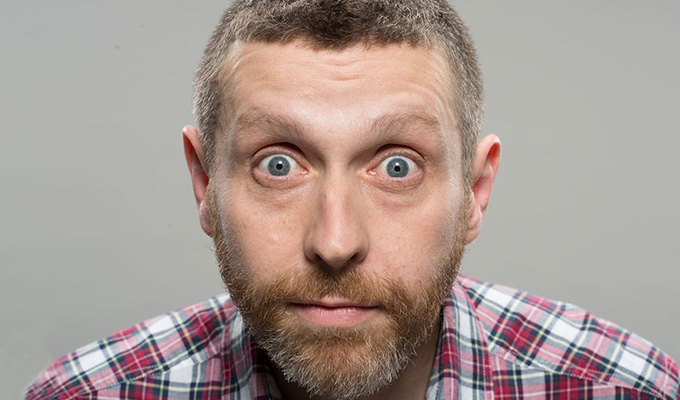 Dave Gorman: With Great PowerPoint Comes Great ResponsibilityPoint
Long-running TV series often end in a feature-length special, so Dave Gorman's latest tour could well be seen as an elongated swansong for Modern Life Is Goodish, with the Prince Of Pedants offering 90 minutes of methodically forensic observational comedy in the same format that's entertained viewers these past five years.
And, yes, his many hundreds of PowerPoint slides include a couple of his trademark 'found poems' composed from the comments section at the bottom half of the internet, with their hilariously misguided, tragically uninformed – but always unwaveringly certain – opinions.
But first a little about himself. He's moved from his long-term East London haunt and out to Bournemouth, prompting a banterstorm of Twitter jibes about joining God's waiting room… but Gorman proves them wrong with his favourite weapons: data and graphs.
However, he has one thing in common with retirees: an obsession with daytime TV, with The Chase and Cash In The Attic providing two pillars of the show.
Of Bradley Walsh's quiz show – on which he was once a celebrity contestant – Gorman's main concern is the Daily Express's click-baity fixation on every jokey exchange. It's a section that holds this once-mighty newspaper up to deserved ridicule, but also subtly has something to say about the fake-news media and internet echo chambers.
The fakery – or at the very least the disingenuity – which Gorman exposes on Cash In The Attic is arguably more trivial, which makes the comic's exasperation at the trickery all the funnier: that he will go to such extremes to deconstruct just one of hundreds of episodes of the low-budget schedule-filler against the real problems in the world. Like: why does his shampoo and conditioner not run out at the same rate?
This toiletry-based routine seems to be a slice of mainstream observational stand-up that's scraping at the barrel of relatability, but stick with it (as if you have any choice) and a bigger picture emerges. You could never accuse Gorman of under-thinking anything. He even out-nitpicks the comic book geeks, pointing out in a preamble that the phrase his title hinges upon predates Spider-Man by well over a century.
The main point of the show seems to be if he can be so careful to research the accuracy and honesty of such media output, why can't the makers? Either that or to laugh at – or empathise with – his infatuation with minutiae.
Support comes from Nick Doody, who worked in the writing team of Modern Life Is Goodish and is therefore very much on the same wavelength as Gorman and his fans. His smartly provocative routine proved a hit, also covering his move out of London (to the unexpected lesbian enclave of Hebden Bridge), his love of Batman and a 'love' song prompted by his statistically true, if bluntly unromantic, comment that his wife isn't the most beautiful woman in the world. It's an unlikely ballad hat rivals Tim Minchin's If I Didn't Have You for its honest pragmatism.
• Dave Gorman: With Great Powerpoint Comes Great Responsibilitypoint is on tour until February. Click here for dates.
Review date: 1 Oct 2018
Reviewed by: Steve Bennett
Reviewed at: Brighton Dome
Recent Reviews
What do you think?