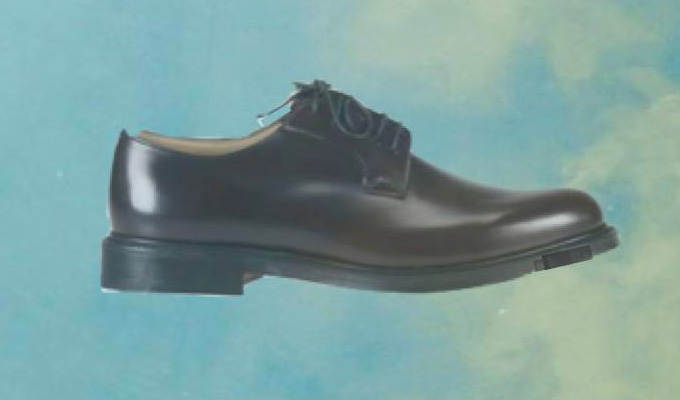 Frank Foucault: Shoes
What last year's best newcomer Natalie Palamides was to eggs, Frank Foucault is to footwear, deploying a case full of shoes to draw a long, absurd metaphor.
Like the expensively trained clowns, Foucault doesn't immediately help the audience figure out what he's up to. Rather he presents a series of surreal sketches and lets the room revel in their weirdness.
The most memorable of this shoe-based variety show – a Cirque Du Sole if you like – is a burlesque strip involving a couple of well-placed laces. But at its heart is a recurring skit, set up with the exact same wording each time, that depicts a surfer's flipper on a date with a lovelorn brogue. Slowly it emerges that this is actually a metaphor for his search for love, the missing right to his left that will complete the pair. He's the rogue brogue after all.
Foucault, dressed in a dapper suit, likes to extend his personal awkwardness to the audience, coming among us between skits to make more proclamations. The oddness is punctured by moments of self-awareness: he feigns bafflement to how one routine got him to be final of the Chortle Student Comedy Award; he debates the wisdom of taking his stage name from a French philosopher (he's really called Luke Smith) and acknowledges his lack of commercial appeal, musing without pity: 'I don't think there is a demographic for this sort of comedy…'
This may be considered self-indulgent, but it's only the tip of the iceberg: his painstaking attempt to build a house of cards, but with children's shoes, might be aiming for the same sort of wilful determination against the odds of Tim Vine's 'pen behind the ear' but is played out in agonising slow motion. Even though it doesn't work, there's something strangely admirable about his pig-headed insistence not to pander.
Oddballs do find fans, at least in Edinburgh, and as Foucault refines his most idiosyncratic act, that audience might start to discover him. The show might not always be easy, but it's intriguing and with enough moments when he puts joy in the absurd – especially in the finale that spills out into the street – to suggest he's someone to keep an eye on.
Review date: 26 Aug 2018
Reviewed by: Steve Bennett
Reviewed at: Just The Tonic at The Caves
Recent Reviews
What do you think?