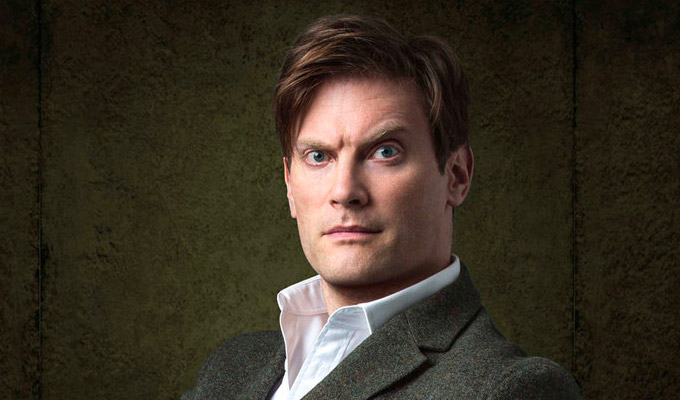 Benet Brandreth: A Hero for Our Times
The Brandreth name clearly has some pull in Edinburgh, with you-know-who's son Benet attracting a near sold-out crowd at 11.15am on a weekday.
While some scions of the famous like to downplay their lineage, Brandreth Jr does not hide it, as asides about Countdown and Scrabble make explicit the links. Not that he could ever disguise his identity, given that he is his father's audio doppelganger, with the exact-same plummy tones, theatrical rolling of the 'r's and gregarious addressing the audience as 'my friends' at every turn. He literally is a cut-price version of his dad, since tickets are just over half the price of Gyles's.
And it would be money well-spent, for this Brandreth has a classy and delightful storytelling show, elegantly constructed to bind together his search for love, for purpose, and for a place to put his ramekins.
An overachieving polymath, Brandreth has written novels, practised as a barrister ('I sold my soul to the devil and it turned out to be worth quite a lot of money'), established himself as an expert on rhetoric as well as being an actor and – as this show proves - a master raconteur. All by the age of a young-looking 42. Looks like he's even conquered age.
Romance was the one major missing piece to his perfect life, and the transatlantic search for that is a key strand here, along with the battle between the lucrative legal career and more artistic ambitions. And it is told with a unique mix of melodrama, artistry and erudition – dropping in names like Kierkegaard, Lermontov and especially Chekov (who knew a thing or to about dramatic structure himself) – without ever feeling unrelateable or patronising. It's enough to give elitism a good name.
Truth is mixed with evocative fantasy, in a story delivered with passion and vim, and never more so than while Brandreth is talking about the bloody ramekins that become a source of vexation worthy of their own literate but despairing stand-up section.
He deploys another cunning device by asking audience members to chip in lines as instructed. Though it sounds like a gimmick to build bonds – which it absolutely is – it becomes integral to the show as it builds to its satisfying, uplifting conclusion.
For nothing Brandreth does or says is down to chance, with every word precisely chosen and devastatingly deployed and every anecdote holding its place in the bigger picture, exposing the clumsiness of any stand-up who thinks a couple of callbacks is all you need to show structure. They could learn a lot from this stylish and funny show; the rest of us can just enjoy a brilliant, witty man at his peak.
Review date: 17 Aug 2018
Reviewed by: Steve Bennett
Reviewed at: Gilded Balloon Teviot
Recent Reviews
What do you think?