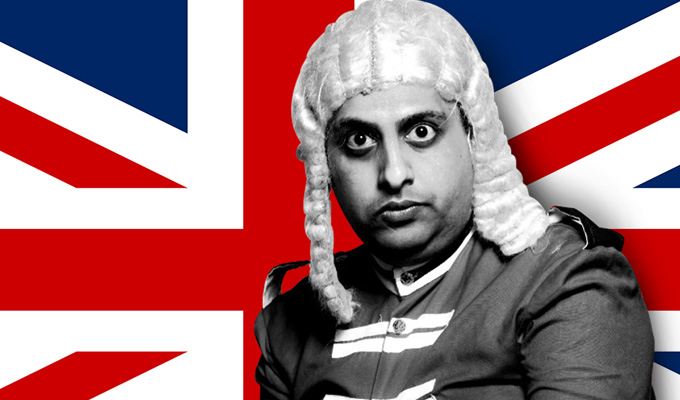 Anuvab Pal: Empire
The British Empire seems to be one of those subjects that keeps cropping up this Fringe, mostly from worldly young British comics, but this one comes from rather a different angle. Anuvab Pal is one of India's most foremost comedians and is here at the Fringe thanks to the global comedy empire being built by promoter Mick Perrin.
Essentially it's a history lesson with jokes in it, and Pal is your mischievous, enthusiastic teacher breathing life into his subject. Pal presents himself as a product of post-colonial India – he speaks 'proper' English as was drummed into him, but also sent himself to an American university and learned the sort of critical way of thinking that wasn't permitted in his homeland. This gives him the ideal position to look with some objectivity at the colonial legacy in India.
You might have forgiven Pal for creating a more angry show – the closest he comes to a judgmental tone is when he jokingly pretends that we as individuals were the ones who were responsible for the whole thing. Instead, it's all very light-hearted. Along the way we get Pal's take on the current political situation, telling us that many Indians have no qualms with Donald Trump, and that Britain's politicians are amateurish in terms of corruption.
As satirists go, Pal isn't one who takes his subjects too seriously, he paints his targets as buffoons, not the spawn of Satan, and this is illustrated in how he portrays the partition of 1947 which created modern India and Pakistan. They were winging it, he says quite jovially, conjuring up images of Dad's Army-style incompetence.
There's some observational humour along the way, connected to his theme by how Victorian attitudes to sex still persist. On this topic, he has an enjoyable routine on a friend of his buying condoms using facial expressions instead of words (I feel this set-up could have been funnier), and another on the generational differences in how his family reacted to the sight of two elephants shagging in the road.
His summing up piece on the revenge India has had on Britain for the Empire is a bit ungainly and feels out of step with the culture wars currently raging around right-wing Islamophobia and left-wing antisemitism. But still, this is an informative and intermittently funny show.
Review date: 12 Aug 2018
Reviewed by: Paul Fleckney
Reviewed at: Pleasance Courtyard
Recent Reviews
What do you think?