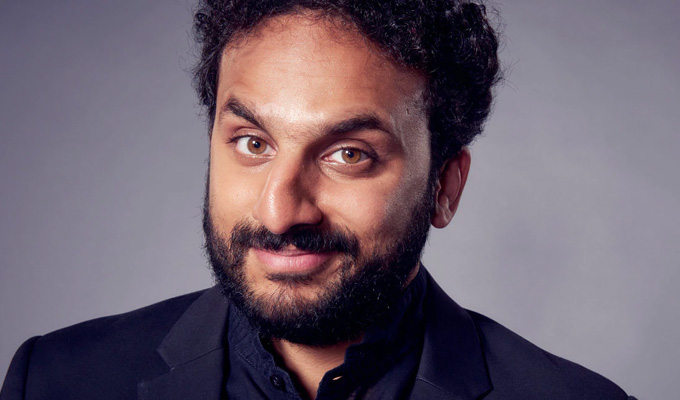 Brit(ish) showcase at Montreal's Just For Laughs
A couple of people seemed to dress the part to be in the audience of the Brit(ish) showcase at the Just For Laughs festival. One chap was in a pinstripe suit, which may have been coincidental, though with near 30C temperatures, it wasn't the most practical outfit. And compere Nish Kumar spotted a guy in a Union Jack T-shirt – who turned out to be Canadian, of course, given that true Brits might be ashamed to identify as such given the Brexit shitstorm.
It gave the comic a perfect opportunity to riff on the transatlantic cultural differences, especially when the punter revealed himself to be a refuse collector, prompting a round of applause and a cry of: 'Thank you' from the ever-polite Canadians. In the UK, Kumar pointed out, he'd probably be greeted with jeers of 'bin man wanker'.
He was in a playful mood as compere, his usual light touch even cheerier than normal. After all, for all the acts, the grind of the UK circuit and the pressures of Edinburgh are suddenly lifted as they find themselves in sunny Montreal, on someone else's dime, with a just a ten-minute set to worry about. Sure, Kumar has a half-hour Netflix special to tape later in the festival – one of the 47 the streaming service is releasing simultaneously next year – but he seemed to have not a care in the world, a vibe that quickly spread to the audience.
Ed Gamble was in upbeat mood, too, opening the show with a blistering set that – if we can play favourites – was the strongest of the night, with a lively delivery and taut, funny writing playing on the gap between perception and reality. Such as being a hardcore heavy metal fan – and former member of an amateur band lamely called Tethered Priest – despite looking like a 'basic bitch indie white guy'. The act-out of how he's perceived by fellow metalhead was priceless.
Gamble was also once described by the BBC as a 'diabetic comedian', prompting him to rage that there's no such thing as 'diabetic comedy'. Although in scornfully imagining what such a thing might be, he accidentally created this new genre. One take-out from Gamble's routine is that the Canadians appreciate a pun, with a line that might have prompted groans in the UK eliciting an applause break here.
Sara Pascoe was more naturalistically conversational in her performance than high-octane Gamble, even while painting a delightfully fanciful picture of the untold luxuries of travelling business class. Her set was about trying to finding happiness - though yoga, for example, or realistic expectations of sex – while shunning things that give no pleasure: in her case art and theatre, controversially. Pascoe pulls off an unlikely trick of being sarcastic and positive at the same time, and her wry, dry comments resonate.
Lauren Pattison – who felt she had to apologise lest her Geordie accent couldn't be understood – also has an unassuming delivery, playing lower status as she jokingly portrayed herself as uncouth.
But she exudes a quiet confidence on stage, even while describing slightly more erratic, embarrassing, or even risky, behaviour off it. A skilled storyteller, she takes her time with the build-ups, with subtle use of repetition and reinforcement. While that makes for a slower gag rate that many, she has the audience leaning in, absorbed in her story, and getting a stronger, more rewarding release when the punchline comes.
Also filming a half-hour Netflix special while in Montreal, Joel Dommett started with some mischievous tales of pranking his dad for falling asleep during films, or describing the passive-aggressive ways of the English.
But the chunk audiences will remember most is his full-on reconstruction of how he clambered across fellow passengers on a flight – a rambunctious physical routine that gives one man in the front row a close-up that could haunt him for a while.
After the stupidly animated Dommett, the tunes 180 degrees to the stern, imperious delivery of the crabby Paul Chowdhry, sardonically mocking those whose fear immigrants are 'stealing their jobs' with a haughty certainty. And he, too, got a pun-prompted applause break, even if the wordplay wasn't exceptional.
Naked guys in gym changing rooms is something of a well-worn comedy trope and Chowdhry didn't find the distinctive in his routines, even if his contemptuous delivery his own. But as noted in his introduction, Chowdhry filled Wembley Arena last year, so he's definitely doing something right,
Review date: 29 Jul 2018
Reviewed by: Steve Bennett
Recent Reviews
What do you think?