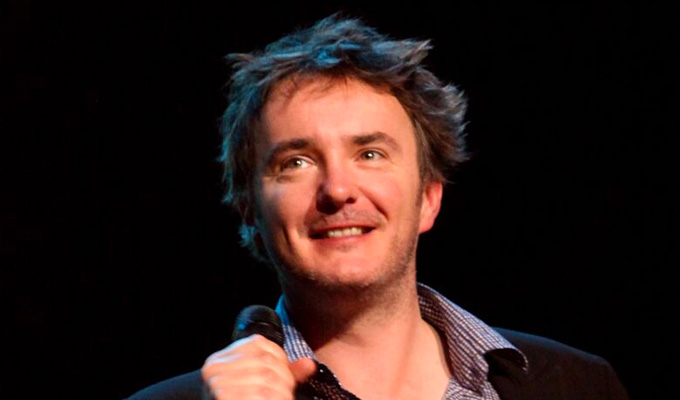 Dylan Moran at Latitude
It's not many a comedian who would note, with resignation: 'My own family say I'm too serious.'
But then Dylan Moran is a different breed of stand-up, whose work always had a strong existential undertow, the slightly shambolic philosopher you could easily imagine in some bohemian literary saloon of a century ago, eloquently musing on the human condition as he swirls his wine glass.
Well the news is that he's given up drinking, and looks good on it, with no detriment to his elegant writing or his high-concept thinking.
His theme for his lunchtime Latitude set is time. 'Time is a French waiter,' he opined, before wittily expanding the analogy.
Essentially, the 46-year-old comic's starting point is similar to many comics of a certain age trying to grapple with change. His description of a world before the internet, for example, is a very common theme, compared to how people are glued to their phones these days.
But what is uncommon is the way he describes it, and also the nuance of his argument. Although he believes our existence on a rock spinning through space should be exciting enough, he recognises that people are inseparable from their devices to avoid interactions with other humans which are inevitably messier and more difficult. And he's also very wary of the tendency for everyone, especially of a certain age, to think: 'This is shit, it was better before' and never enjoy the now.
He also knows at his age he's behind the curve on so many things… but that release of the pressure to be cool and instead settle into the cosy is a development he welcomes.
Moran's delivery has always been consciously shambolic – 'it takes me a while to get a sentence in order', he confesses – but his turns of phrase are uniquely vivid. Once they've raised an idea, most comics will act it out in a mini solo sketch, but Moran has no need of such trickery, given his phrases call to mind such clear images.
Ironically, given the theme of this session, the Irishman has such a fragile grasp on time that he ran for 30 minutes despite being billed for 45. But if he was sticking to the adage, 'always leave them wanting more', he hit the spot.
Review date: 16 Jul 2018
Reviewed by: Steve Bennett
Reviewed at: Latitude
Recent Reviews
What do you think?