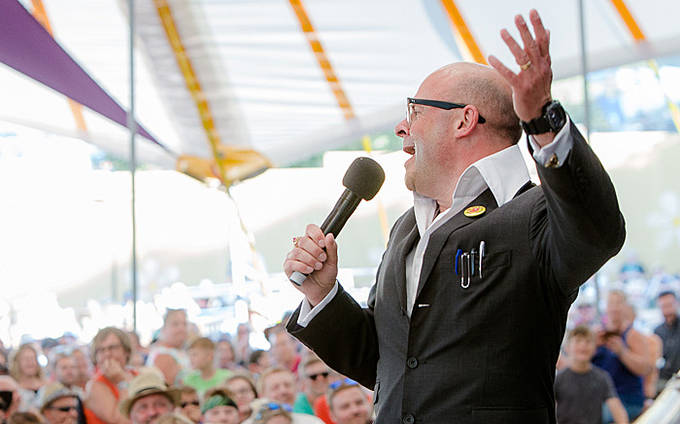 Harry Hill at Latitude
Harry Hill is often described, not least by his own publicity, as a 'wide-collared loon': the absurd, cartoonish character who cheerily belts out snippets of pop songs while he does a silly dance; who deploys a suitcase full of props – including an old car hooter to emphasise his cheesier gags; and who has that uniquely frolicsome way of teasing audiences into his preposterous set-ups.
All this is undoubtedly true, making him probably the most distinctive comedy star of his generation, but there's lots of craft beneath that daft-uncle surface, too. The face of family-friendly entertainment can crack jokes about the paedophiles on 1970s telly that a more intense comedian might call edgy, but here forms part of the same foolish Harry Hill shtick. That said, it probably won't feature in his forthcoming kids' comedy tour.
Meanwhile, a running joke about lunchtime sandwiches – originating in one of Hill's peculiarly precise and mild putdowns to a crowd member – has been grown from a solid observational comedy seed, a small everyday incongruity that, once revealed, is obviously bizarre. But no one had the eye to notice before Hill.
His skill is in blending modern inspirations like that with old-school entertainment. He'll tease a punter with a line like: 'I've seen you down the duckpond…' in a way reminiscent of Paul Whitehouse's spoof music-hall comedian, Arthur Atkinson. He's also a fine physical comedian, with his slapstick efforts to get the microphone into its stand one of the funniest thing on the Latitude comedy stage all weekend. But the same performance skills go into his every routine, invigorating them with exaggerated movement.
If there's one criticism of his set here, it's that it becomes self-indulgent towards the end. A routine where he wanders through the audience, asking everyone to suggest the title of a TV show, which we all then sing to the tune of No Woman, No Cry, pays off because of its bloody-minded repetition (as well as giving everyone an earworm that sticks in the brain more than any of the brilliant bands on at the festival).
But when he tries another walkabout making a chain of polystyrene packaging kernels, it's pointlessness isn't mitigated – and the rest of the audience are reduced to passive bystanders. Likewise a spoof bit of clarinet-playing goes on too long, as does his rendition of My Way which he really does do his way.
Still, we can indulge him a little, given the brilliance of the bulk of his set. And while he professes to be a bit baffled why he's here – 'I don't even need the money,' he points out – a very packed comedy arena is glad that he is.
Review date: 15 Jul 2018
Reviewed by: Steve Bennett
Reviewed at: Latitude
Recent Reviews
What do you think?