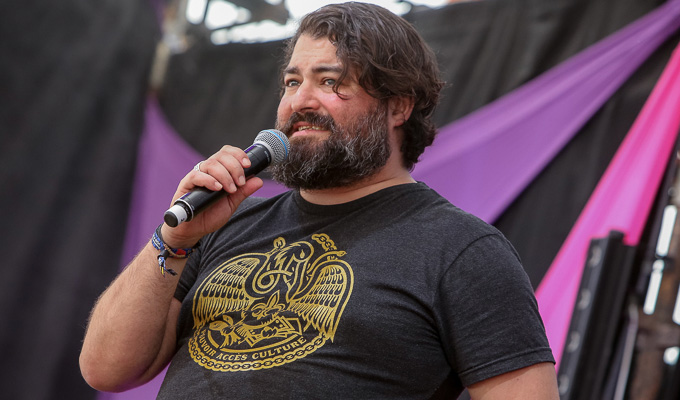 Sean Patton at Latitude
Visiting American acts, however good, often struggle with the dynamics of Latitude – see Janeane Garofalo in 2009 for the prime example. The noise bleeding in from the music arenas and the laid-back attitude of an afternoon crowd, sometimes half-preoccupied by other distractions, puts them off their club-honed pace.
For Sean Patton we can add sleep deprivation and jet-lag to the heap of obstacles he faced, as he confessed to having flown straight in from the States that morning, jumped on a train to Suffolk, and now finds himself on stage.
He very noticeably groped around to get the measure of the tent. Complaining about the situation didn't work, since this was the crowd's current normality, weird only to him. Eventually he used many a comedian's fallback of asking redundant questions to segue into each routine, possibly more for his sake than ours, to remind himself that the crowd WAS listening, even if they were being pretty subdued about it.
Patton's content also suits a late, underground atmosphere more than a sunny afternoon. He's grubby and dark in his sensibilities, although it never seems gratuitous, just a reflection of his own truth as a slightly shabby man muddling through.
Cocaine use, open heart surgery, involuntary racist thoughts, the noises of orgasm, graphically acted out, the masochistic pleasures of heartbreak or whether it's better to know the date of your death or its manner are all on his set list, probing away amusingly at things society usually doesn't like to talk about.
Patton raises offbeat opinions on all of them, while having the storyteller's gift of keeping things interesting with his cadence, unhurried timing and mini-sketches. All of which won the attention and approval of the crowd, once Patton relaxed into it: no other tricks required.
Review date: 14 Jul 2018
Reviewed by: Steve Bennett
Reviewed at: Latitude
Recent Reviews
What do you think?