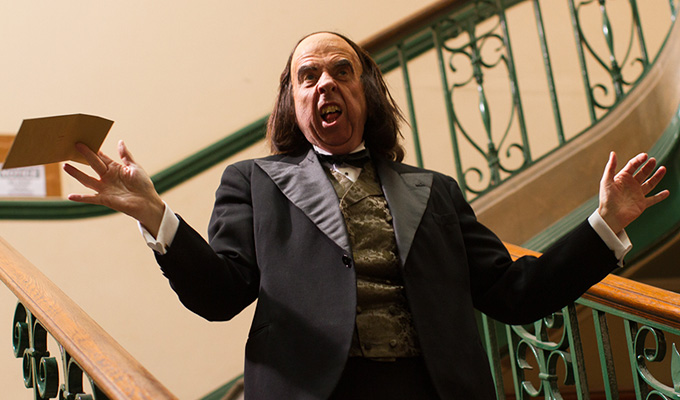 Stanley - A Man Of Variety
Stanley – Man Of Variety has been languishing on distributors' shelves for more than three years, having been shot in 2015 and undergone two changes of title since then.
The delay is perhaps understandable, as it's hard to see the commercial appeal of a film that might evoke classic comedy characters of the past, but for a downbeat story, told with such self-conscious oddness it puts an emotional block in front of the audience.
Dark and surreal, the film is a fine showcase for the versatile brilliance of Timothy Spall, who plays every single character, all 16 of them. But it's already common knowledge what a fine performer he is – and even he can't salvage this dour, ill-formed movie.
His prime role is of the titular character, incarcerated in what appears to be an otherwise deserted prison or mental facility, probably over the death of his daughter 15 years ago. Forgive qualifications about the facts of the story, but this is a film that likes to muddy the waters of what's real in its own narrative.
Certainly fantasy are the bygone stars of variety era that Stanley hallucinates as he struggles to come to terms with this predicament, and who offer him advice or admonishment. Max Wall, Alastair Sim, George Formby, Noel Coward, Max Miller and Margaret Rutherford are among them.
Their spectral presence appears to be a comfort and a release for 'a sorry little man' who clearly has no mirth in his life, bugged by depressive thoughts.
But there's strangely little love or affection in the way the old stars are portrayed or interact with Stanley. This is a not a man conjuring heroes in place of real people he can connect with; they are merely impersonations of icons. Charitably that could be down to Stanley's isolation from humanity; uncharitably it's a cheap trick from the film-makers to evoke some much-loved figures (at least among an older generation, youngsters could be baffled) to benefit from a second-hand nostalgia.
Their words are shallow, often used to evoke canned laughter to echo hollowly over the tragedy, an old and corny cinematic trick. Similarly, some of the surrealism seems to try too hard in a heavy-handed attempt to put weird images together. particularly in the scenes in which Stanley recalls his mother,
Deliberately disconcerting, Stanley – Man Of Variety is also frustrating and unsatisfying, each scene a curious little sketch on its own, but amounting to very little.
• Stanley – Man Of Variety is exclusively at London's Picturehouse Central from today, then at Picturehouse cinemas nationwide from June 26.
Review date: 15 Jun 2018
Reviewed by:
Recent Reviews
What do you think?