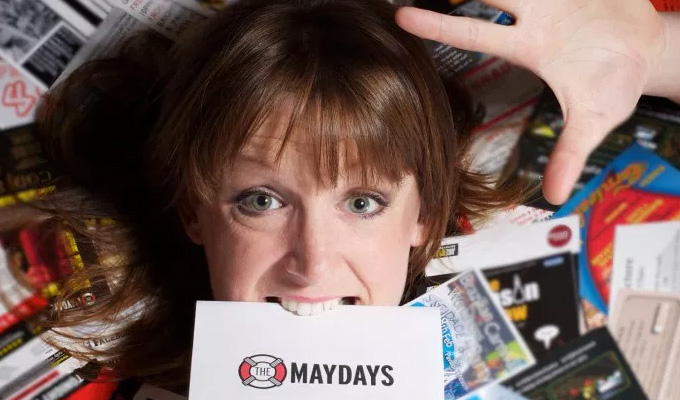 The Maydays: The Fringe Show
One thing we learn from The Maydays take on the Brighton Fringe programme is just how turgid and pretentious some of the shows on offer sound, just from their own descriptions. Thankfully, though, we don't have to endure the less promising fare first-hand, for this cheery improv troupe offer bite-sized comedy versions that probably bear no relation to the real thing.
The idea of The Fringe Show is that members of the audience tear out descriptions from the festival brochure of shows they would like to experience. Then the slips are picked at random from hats representing each of the programme genres.
Tonight's selection included a polemical Marxist play, a dance piece about identity rather unsubtly called Boxes, and a 'renegade, inter-generational, herbivorous double act' featuring a '50something hardcore feminist' entitled Vegetarian Vendetta. How very Brighton!
Each description inspires the four performers to imagine what the shows might be like - or more accurately conjure up a short comedy, or sometimes dramatic, sketch based on the idea. The improvisation is fluid – no getting cheap laughs from the struggle to think of the next line here – so each skit feels fully-formed, even if some are inevitably more successful than others.
Yet the team have natural funny bones, with a song about 'bears, beavers, and buffalos' made hilarious just by the last word was stressed in a dopey baritone.
In other scenes, Benji Waterstone's stand-up show Ayahuasca Diaries, about a powerful psychotropic administered by Amazon shamen, inspired some silly physicality as the troupe recreated the druggy trip; visual arts exhibition entitled Geometries Of Water prompted a satire of the bombastic language used to describe photographs of the sea; and Baba Brinkman's Rap Guide To Climate Chaos offered an obvious set-up, which the quartet drove home with skill and wit.
For many of the sketches, an offstage pianist improvised an atmospheric soundscape, which proved integral to the mood of each – as well as his more obvious contribution to the musical numbers.
The Fringe Show ends with a longer piece of maybe 15 minutes – although today's didn't really spark, for which we can blame the person who selected a fairly nondescript lunchtime jazz concert as the show to be tackled.
The Maydays did well to invent a mini-drama about unfulfilled dreams (not to mention a fitting torch song) out of the uninspiring blurb that seemed to offer only limited room for invention. Yet again the fact it didn't utterly defeat them is testament to this assured team's improvisational skills.
Review date: 4 Jun 2018
Reviewed by: Steve Bennett
Reviewed at: Brighton Komedia
Recent Reviews
What do you think?