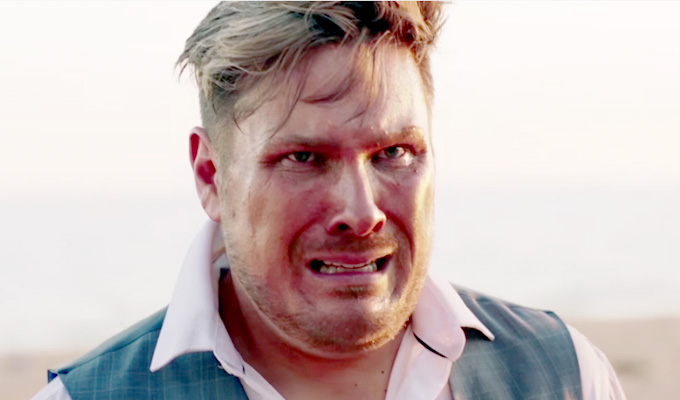 High & Dry
If you were to think of the worst person to be stuck on a desert island with, Marc Wootton's latest grotesque would be hart to beat.
In Channel 4's new comedy High & Dry, he plays the super-needy air steward Brett Sullivan, a festering nest of ego and insecurities who is cast away with a handful of survivors when an inappropriately-named Air Intacta flight comes down way off course.
He is less concerned with food, water and shelter than he is in making sure that Douglas (Harry Peacock), an emotionally distant passenger he took an inappropriate shine to, considers him his best friend.
The cast is completed by Vicki Pepperdine as retired headmistress Harriet, just the sort of practical no-nonsense person you'd need in a crisis; People Just Do Nothing's Asim Chaudhry as the easily led Arnab; and Grace Rex as Susan, a super-devout Christian who believes the island is a divine trial, and that she is being punished by God for an impure thought.
What ensues looks like a cross between Lost and The Island With Bear Grylls, with a premise that immediately fulfils the main criteria of sitcom – that the characters are trapped – while providing plenty of dramatic possibilities as to their possible escape from their predicament.
Shot in the Seychelles, this looks like paradise but is clearly hell – not least because of the malevolent presence of Brett. More than once in the first episode alone does he scupper any chance of rescue.
There's a strong narrative impetus that keeps you watching, even if it possibly comes at the expense of laugh-out-loud comedy. Arnab is the most obvious comic relief, a counter to Brett who is probably too unpleasant to want to spend too much time with – escaping him is the real challenge. Meanwhile, a disturbing fantasy sequence allows Wootton, who also created the series, to indulge even more of his jet-black humour.
Channel 4 have shown much faith in this comedy, elevating it from a Comedy Blap pilot and then bumping it from a planned E4 broadcast to a decent slot on the main channel. It could well pay off.
• High & Dry is on Channel 4 at 10.30pm tonight, after the return of Friday Night Dinner.
Review date: 4 May 2018
Reviewed by:
Recent Reviews
What do you think?