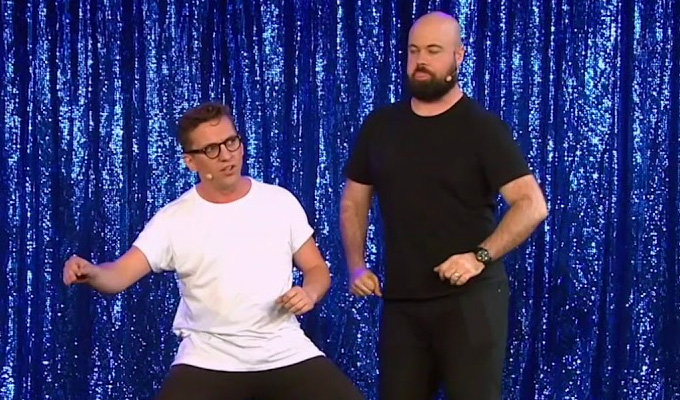 MICF: Ben Russell & Xavier Michelides – Restaurant F*ckheads
You can't complain about portion sizes in Restaurant Fuckheads, for everything Xavier Michelides and Ben Russell do is big, from the epic story, the melodramatic jeopardy, and, crucially, the overblown performances.
The pair play brothers who, as explained in a slightly-too-long prologue, dropped out of the restaurant game in 1998 after accidentally massacring countless people with their food.
Fast forward 20 years and Ben's now working for a home shopping TV network, while Xavier pushes dangerously experimental drugs to Today host Karl Stefanovic. Again, things don't end up well. Restaurant Fuckheads racks up almost as many corpses as it does blasts of pre-recorded airhorn. Which is a lot.
When their father dies, the pair are bequeathed the family restaurant, which they reluctantly take on even though Ben doesn't trust Xavier an inch, a fact he never tires of pointing out. And what is their big idea to turn the ailing business around? To invite the super-judgmental stars of Australia's top-rated reality show around…
The story is incredibly loose and so is its execution, especially its uneven pacing, but these pair take it all in their stride. Both comics, who play the entire supporting cast too, experienced improvisers, and while this is scripted there's still a seat-of-their-pants air. Driving everything forward is a great spirit of 'sod slickness, this is comedy, so let's have a laugh'. Which they do.
In that spirit, Russell – already known for his elaborate one-man multi-character pieces – occasionally channels Jerry Seinfeld, Nic Cage – or in one brilliant in-joke – David O'Doherty. Though this is certainly not the only self-referential moment in a show that will never let you suspend disbelief, as every inner working is exposed and every shortcoming admitted, making a new joke out of the shabbiness.
This meta approach is most apparent when it comes to mime, with some of the best gags being a reveal of what the pair were actually acting out when they had convinced you they were doing something mundane.
Often the duo's looseness threatens to derail a scene, but it is also their strength as they undermine conventions of storytelling comedy, relying on their considerable performance chutzpah to see them through.
It's a difficult balance to pull off, and they don't always achieve it. But there's plenty of fun in watching them try, even if they don't consistently achieve Michelin-star levels of comedy.
Review date: 19 Apr 2018
Reviewed by: Steve Bennett
Reviewed at: Melbourne International Comedy Festival
Recent Reviews
What do you think?