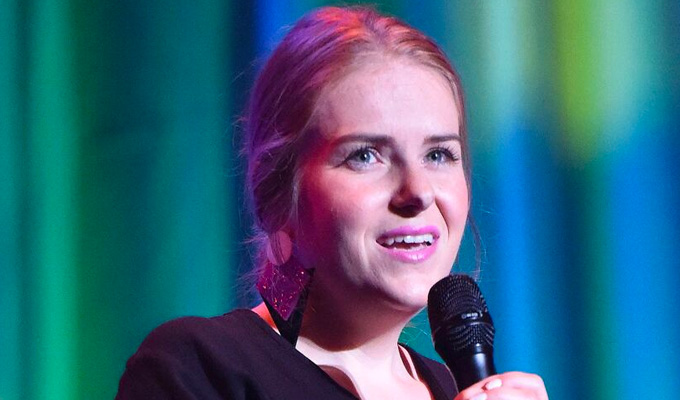 MICF - Raw Comedy Final 2018
These are officially the funniest 1.12 per cent of new comedians in Australia. A total of 1,068 people entered Raw Comedy this year - just 12 made it to the final at the Melbourne comedy festival.
Gavin Semple had the unenviable task of kicking off the show, which he did with an entertaining story about his ill-fated attempt to stand up to a school bully that emphasised both his roots in a rough Western Sydney suburb and his low-status position. Self-deprecation is his shtick, especially about his pencil-thin frame, and including the usual 'people I look like' bit. While he has some good lines and was confident in his opening slot, his material felt a little safe. However the judges disagreed, and awarded him one of two runners-up slots.
Up second was Sian Smyth, a dry comic with a strained stage voice who underplays her material. That low-status stance meant it took a couple of her sparse minutes for her attitude to fully emerge, but once it did she revealed herself to have a bleak, snarky edge. There's a touch of gallows humour to her work, perhaps inherited from her day job as a social worker, and she well-used bitterness to grit her comedy.
If Smyth was deadpan, 'proud woman of a certain age' Jane New was almost comatose in her slow delivery. Like many new acts, she took her low energy and suppressed it further, trying to make it a virtue. Though it may have been too convincing, as her 'I'm not actually a comedian…' opener seemed unfortunately credible. Her material was unadventurous too, dedicating her full slot to dick pics and the technical failings of such photos.
Alex Hall-Evans injected a much-needed dose of energy, of the camp, bitchy variety as he archly dismissed pet hates such as yoga bunnies with a withering attitude. He didn't have sharp enough writing to match his sentiments though, even opening with a very old gag insulting the audience. He feels more like a 'personality'-in-waiting than the seeds of a great comedian - but he is certainly an engaging presence.
Emma Holland, in contrast, immediately established herself as an original talent, with material head and shoulders above her predecessors on the Melbourne Town Hall stage. She used a kids' pastime to ask some inventively absurd rhetorical questions of the audience before offering a millennial's-eye crash course in what some lesser-used emojis actually mean, which was again sparkling with wit (if perhaps two icons too long). A real delight, she took the other runner-up slot and might consider herself unlucky not to have claimed the big prize.
Emo is no sullen emo, but another lively stage presence, ramping up the atmosphere with such lively if inane exhortations as: 'Make some noise if you like comedy!' Perhaps too late if the answer was no. Again he was something of a triumph of spirit over invention, with his tale about wearing a fluorescent condom in the dark hitting its marks exactly as you'd expect – and occasionally over-explained. Fun enough, but light on substance.
Next up, Ryan McArthur suggested this gig was a meeting of Awkwards Anonymous and regaled us with some of the embarrassing incidents that still make him cringe today. However, in truth they weren't that bad – such is the nature of anxiety, of course – so didn't make much impact. Recognisable, relatable anecdotes are one thing, but could have benefitted from some exaggeration or punchline to elevate them.
Cheeky Matthew Vasquez made much of his Chilean heritage, with some very niche mock-racism against the Peruvians. However, the set was mostly self-centred, notably a strong gag about how people find it hard to guess his age. Reading out someone else's bad poetry seemed like a cheap shot, though.
Understated Bec Melrose speaks softly, but her elegant and witty writing zings. She's sardonic and astute, with strong, distinctive gags concealing a socially conscious edge, allowing her to address issues including poverty tourism and feminism bandwagon-jumping, but in such a deft way that ensured the laughs came first. A fine comedy craftswoman, she impressed the judges who awarded her first prize: a trip to the Edinburgh Fringe this August.
She was a tough act to follow, but Kevin Jin did so with aplomb, thanks to a playful but intelligent set. He's studied race and gender philosophy, which might sound high-minded as it informs his savvy material, especially his response to women who tell him: 'I don't date Asians.' But he's a skilful writer with a mock-arrogant attitude of deluded self-aggrandisement undercut with sharp gags. It's a strong combination, and Jin was unlucky that it didn't secure him a place on the rostrum.
Review date: 16 Apr 2018
Reviewed by: Steve Bennett
Reviewed at: Melbourne International Comedy Festival
Recent Reviews
What do you think?