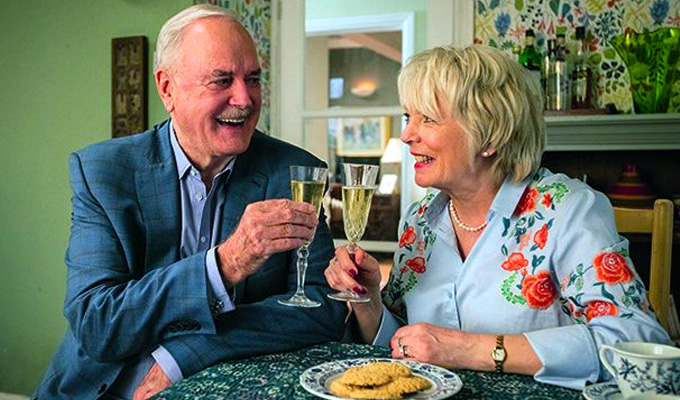 Hold The Sunset
Why do bad things happen to good people? Well, not bad exactly, but decidedly mediocre. Hold The Sunset boasts a cast almost any TV show would envy – not least John Cleese's return to sitcom – yet a tepid script and an unlikeable undertone often make this supposedly gentle early-evening comedy feel like a struggle.
The premise is strong enough. After years of deliberating, widow Edith (Alison Steadman) is ready to settle down with her neighbour, and long-term suitor, Phil (Cleese). They'll sell up and go and live their retirement years in the sun. Such bliss! But their glorious plans are chucked in the dumpster by the arrival of Edith's 50-year-old son, Roger, who has quit his job and his marriage in a full-on midlife crisis.
Yet Roger is such a wholly unsympathetic character, even in the usually capable hands of W1A's Jason Watkins, that he very quickly becomes an irritant. We are, I think, supposed to feel a little sorry for him, driven to revive the uncomplicated pleasures of his youth by moving back in with mum.
But he is, to put it mildly, an unmitigated shit, especially to the women in his life. Not only does he treat Steadman's docile Edith – as likeable as you'd expect – like a doormat, it turns out that he's been little short of vile to his wife Wendy (Rosie Cavaliero) and so-far unseen kids. His money-grasping sister Sandra (Joanna Scanlan) is no better.
Roger seeks solace in the pleasures of youth. Unlike most 50-year-old who came of age to early video consoles and The Smiths, Roger seems a generation older, turning to his model World War Two aircraft. And for the flimsiest of reasons he decides to climb into the house through the window, for a dubious set piece of slapstick.
Cleese is one of the better things in the show. Rather than mugging with Fawlty-esque exaggeration, he underplays any infuriation Phil feels, rolling his eyes and trying persuasive argument rather than, say, whacking things with a branch.
The episode starts with an exchange with an underused Peter Egan, from Ever Decreasing Circles, as the confrontational neighbour Mr Dugdale, which suggest a wry take on intransigent pensioners. But the script by Charles McKeown – best known for co-writing the movie Brazil and falling into a pit in Life Of Brian – doesn't really go that way.
A broadcast slot of 7.30pm on a Sunday suggests a certain gentle pace, and maybe Hold The Sunset will resonate with those still pining the loss of Last Of The Summer Wine – although the unpleasantness of Roger still grates.
But anyone expecting Cleese's comeback to be anything like the new Fawlty Towers – as if that would be so easy to replicate – will be disappointed.
• Hold The Sunset starts on BBC One at 7.30pm tonight.
Review date: 18 Feb 2018
Reviewed by: Steve Bennett
What do you think?