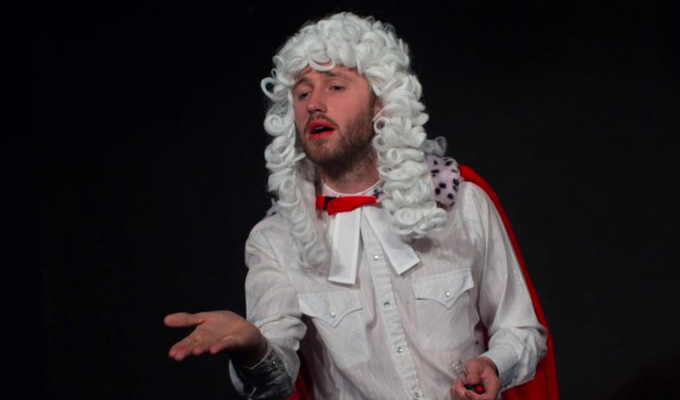 Christian Brighty's Free Will
Call my attorney! Despite its advertised blurb, Christian Brighty's Free Will is about as much about the law as Monty Python's Flying Circus is about daredevil biplane pilots.
For as well as his jurisprudence degree, Brighty has studied at the Lecoq clown school – and it very much shows in his debut. He deploys a set of techniques that have become very familiar since Dr Brown and his many imitators put modern-day clowning on the comedy festival map – primarily getting laughs from audience patsies' attempts to complete a task the performer is deliberately only partially explaining.
The 40-minute show is done mainly in mime (silence in court!) and built almost entirely on one joke, and not a very original one at that.
You might have already have heard comedians deconstruct the Edwin Starr song War before, giving detailed examples of exactly what it is good for. Like an uninventive musical comedian, Brighty swaps the word 'war' for 'law', then offers a wordy textbook definition of what the criminal and civil justice system exists for. And repeats ad nauseam, with decreasing returns.
There's a fair bit of audience business based around this, getting us to sing along with the song, a couple of visual gags, and a rushed bit at the end that enables the audience to get an actual free will, justifying the neat pun of the title. But it doesn't amount to much.
Brighty's a reasonable performer, but the material is stretched and unoriginal, especially if you've seen other clown-based shows in recent years.
Review date: 9 Feb 2018
Reviewed by: Steve Bennett
Recent Reviews
What do you think?