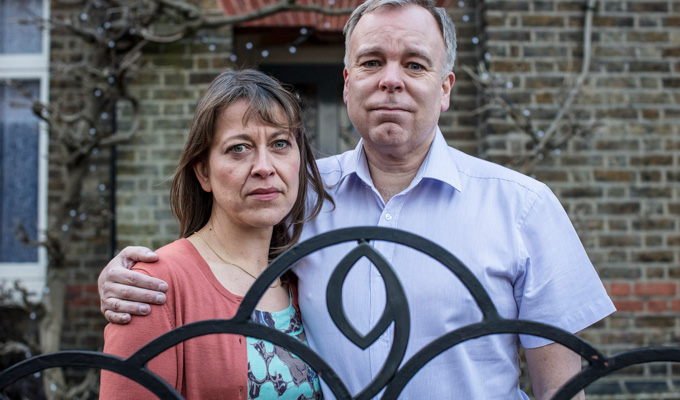 Inside No 9: To Have And To Hold
After all the fun - if occasionally murderous fun - in this season of Inside No 9 comes an episode with a distinct chill in the air.
Tonight's Number 9 is a normal suburban house. Inside, Adrian (Steve Pemberton) is doing a Jigsaw when his wife Harry (Nicola Walker from Last Tango In Halifax) returns home, and it's soon clear that he's a crushingly boring man (to be fair, the Jigsaw was a giveaway) and that their 20-year marriage is in the doldrums.
There's talk of a ceremony to renew their vows. Harry's written some tender words, bit Adrian's has all the passion of a tub of Pot Noodles – also his staple diet, apparently.
With tension, frustrations and the tragedy of wasted lives, this episode plays out like a gritty kitchen sink drama. Though replace the sink with a tray of developing fluid, because, with no small irony, Adrian is a wedding photographer, great with other people's marriages, appalling at his own. When Harry tries to spice things up with a little sexy role-play, he's having none of it.
During the couple's bitter, uneasy encounters, director David Kerr Isn't afraid to hold seconds of awkward silence – dead air that seems an eternity, contributing to a feeling that everything is on edge.
There are some flashes of humour – of the darkest of hues – but the tone is more of discomfort, especially when guests arrive and our couple play out their tensions in public. Reece Shearsmith takes a back seat in this episode as one of the visitors, Max, newly wed to Hannah (Miranda Hennessy) who'd employed Adrian for their big day. But after a tense, embarrassing encounter, they are both off.
As with almost every Inside No 9, just when you've got the measure of things comes an unexpected pivot where everything changes – and two-thirds into this episode, the mood goes very strange and dark… or rather stranger and darker given the starting point. Though to reveal any more would be too much of a spoiler.
So a heavier episode after the lighter touch of the series so far – but fans of the show will not be disappointed by that.
• Inside No 9: To Have And To Hold is on BBC Two at 10pm tonight.
Review date: 23 Jan 2018
Reviewed by:
Recent Reviews
What do you think?