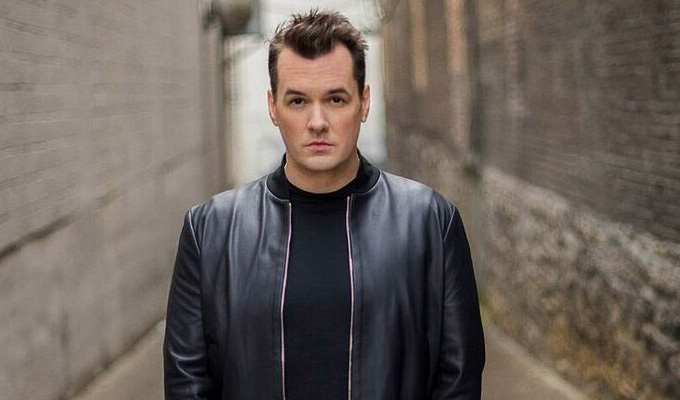 Jim Jefferies: Unusual Punishment
He's a dirty comic with a history of drug and alcohol abuse and a known penchant for offensively misogynist jokes. Yet somehow Jim Jefferies today finds himself a more ethical moral arbiter than the President Of The United States.
Though he shot to prominence with gags that tweaked the limits of taste, the Aussie's stock rose with that common-sense routine about gun control. Since it went viral, he acknowledges the fact that it makes him more famous with every massacre, a very weird position to be in.
He also got a late-night topical TV show on the back of it, essentially, so now this purveyor of dick jokes also finds himself a social commentator. Which means that with Donald Trump's 'grab them by the pussy' comment, Jefferies gets to combine two of the main weapons in his comedy arsenal.
Pondering whether the groping POTUS laughed about is physically possible does not take a vast leap of comic thinking, but the routine early in Jefferies' Unusual Punishment show – being taped at the Hammersmith Apollo for Netflix – certainly plays to his brand of being a grubby, but no-nonsense, stand-up.
However he proves himself at his best when storytelling, and there are a couple of excellent anecdotes here: one about his sloppy single parenting leaving his four-year-old son with food poisoning, played out in visceral scatological detail, and one about his strangest ever booking when Mariah Carey – yes, really – booked him to entertain her husband at the time, Australian billionaire James Packer, at his birthday dinner party.
It's a wonderfully involving yarn featuring a raft of A-listers in walk-on parts – Leonardo Di Caprio, Al Pacino, Eddie Murphy, Warren Beatty – and Jefferies wrings every ounce of self-deprecating humour out of it, as an ordinary bloke hopelessly out of his depth in a situation no one really wanted him in, least of all himself. It's an endearing reminder that while he may be relatively famous, there are many bigger leagues above him.
Apparently, Jefferies had a non-disclosure clause for that gig, though he's brazenly flouting it now. It's part of a refreshing honesty towards his life that also involves him exposing the regrettable deals he stuck as a young comedian, agreeing to make five comedy specials for £90,000 in a foolhardy move that would end up costing him more than twice as much to get out of.
Although these long stories and political comments are now becoming his hallmark, Jefferies hasn't abandoned the dirtier shtick altogether - how could he? There is a rape gag, although definitely not aimed at victims, and he gets to revive a brutal old 'dead baby' routine in the cause of a story that recalls when it went very, very badly.
He very occasionally lapses into the less original, with jokes about sign language translations of rude words is particularly old hat. This leads to a quip about the sign he purports to indicate gay sex – a routine that starts very similar to a trademark Richard Herring routine about schoolyard insults, but soon enough moves in its own direction, for a graphic description of a very niche sexual practice and a string of insults about uncircumcised British penises.
For Unusual Punishment is all about the dicks: whether literally, in power or in Hollywood. And sometimes Jefferies is the biggest dick of the lot, but at least with the self-awareness to realise it.
• Jim Jefferies is in the UK until Thursday. Click here for dates
Review date: 20 Jan 2018
Reviewed by: Steve Bennett
Reviewed at: Eventim Apollo
Recent Reviews
What do you think?