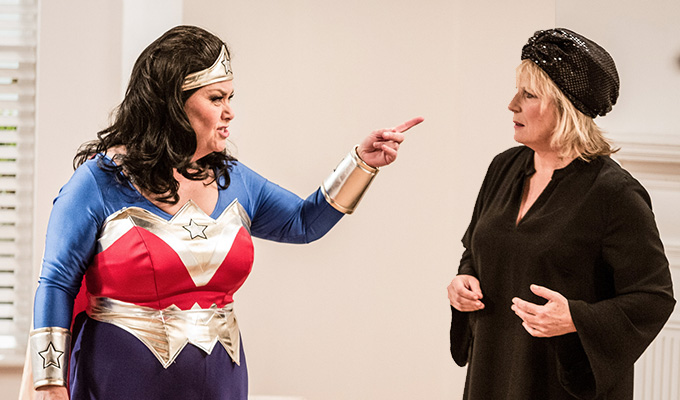 300 Years Of French & Saunders
Note: This review is from 2017
French and Saunders' last TV show was a Christmas special in 2007, a compilation of old sketches with a soupçon of new material. A decade on, it's the same format, with the pair making very clear in the advance publicity that this was primarily a clips show, despite its prestigious scheduling.
However, not a huge amount of love seems to have been lavished on the montages summarising their 30 years together. There are cut so quickly as to rob them of the interplay between French and Saunders that is so crucial to their success.
Instead, there's just enough time for the viewer to recognise which pop star or movie they are parodying with their exaggerated caricatures before moving on. Yes, it's funny to see them in all their guises, but all the writing has been thrown out of the window. Occasionally a sketch gets a bit of a longer showing, such as the pair as bitchy schoolgirls or teens spreading myths about birth control, but these only make you realise how brutal some of the rest of the editing is.
All this makes the new sketches all the more important, showing off the sincere friendship between the pair, the warmth emanating through the screen.
In the first of the 'white room' sketches, they mock The Handmaid's Tale – which is funny even if you're not up to speed on the original, both for the silly bonnet and the idea of Dawn being 'the most fertile woman on Earth'. Even more unlikely is the fact that she is the 'real' Wonder Woman, pissed off that she never made it into the new blockbuster – a variation on their old Pocahontas sketch.
Modern culture gave them some other new targets: The Kardashians with their preposterous arses (a comic target as easy to hit as the backsides themselves) and a couple of pairs of Gogglebox participants – genuine people being affectionately and accurately parodied by the pair.
The longest new sketch of the show returned to the farmers of Prickly Pear who'd come up with a new way of making money - natural burials. Their casual mistreatment of the corpses had some predictable lines of thought, but also some nice scenes and – again – the chemistry between the pair elevated it.
And the best was them playing extras on the set of Poldark, keen to lust over Aidan Turner and featuring game cameos from real cast members Jack Farthing and Eleanor Tomlinson.
All this only makes you wonder if it wouldn't be too much to ask for a full French and Saunders Christmas special for 2018, rather than raking over old ground.
Review date: 25 Dec 2017
Reviewed by:
Recent Reviews
What do you think?