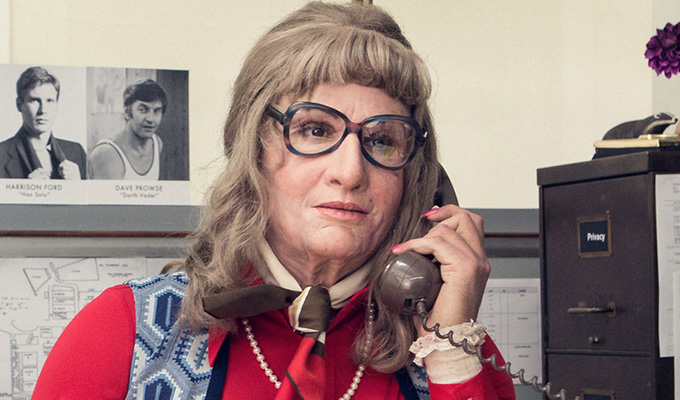 The Celebrity Voicemail Show
Today's BBC Three Comedy Slice pilot has already had several run-through, courtesy of Radio 4, where it has previously run for two series.
And The Celebrity Voicemail Show's roots are definitely showing, for there's little that pictures add to Kayvan Novak's characters, however carefully they evoke the 1970s setting, with fine attention to detail.
The solid idea here is that all these alter-egos are leaving messages on the same answerphone. In this case George Lucas, who is midway through production on the first Star Wars movie.
Certainly Novak's transformation beneath layers of latex is impressive, and his ability to inhabit diverse alter-egos is already celebrated - but most of the visual additions seems superfluous: extras in the back the shot practising a light-sabre fight, for instance. Producers even feel the need to display the word 'Beep' on the screen when the machine, well, beeps. Thanks for the help!
Further lack of faith in the format is displayed in the way every message has to be interrupted by something else – whether it be other calls or off-screen visitors – adding a forced busy-ness lest we get bored looking at just one character talking for more than 30 seconds. It creates the feeling that even at 19 minutes the show has been stretched.
That said, some scenes are very funny: The 'space-funk' jam that one Hollywood suit suggests for the Star Wars theme tune is inspired… and the track is given a delightful period psychedelic video that's one of the few times the visual medium is needed for the gag.
It's part of an amusing conference call scene with Novak's characters all around the same boardroom table, one of several good ideas on display. Another has a dopey security guard at Elstree studios is hoodwinked by Irish terrorists using the least convincing Bruce Forsyth impressions you've ever heard. Didn't they do well!
But such scenes don't especially seem to need the voicemail format – which may be a grand idea for radio, and a good showcase for Novak's versatile vocal talents, but rather arbitrary for telly.
• The Celebrity Voicemail Show is available on BBC Three's iPlayer channel now.
Review date: 11 Dec 2017
Reviewed by: Steve Bennett
What do you think?