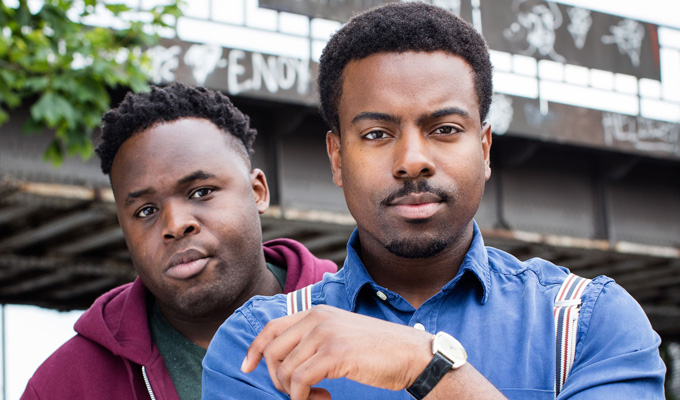 Hailmakers
Note: This review is from 2017
Chinese Burn might be this year's BBC Three 'Comedy Slice' that's got the most press attention, given its focus on an under-represented ethnic group, but Hailmakers is the funniest.
It's basically a black Only Fools And Horses, with Akemnji Ndifornyen and Samson Kayo as low-rent entrepreneurs Say and Sol. It's a similar premise to an earlier pilot in this run, Enterprice, but broader, cheekier and livelier.
The pair are looking for 'the next investment opportunity' for their vast fortune of £40 after their toilet-cleaning business goes down the pan - and it turns out to be a scheme to shift some dodgy football sticker albums that Del Boy would be proud of.
The knock-offs are definitely as good as Panini … except for the printing error that means the nation of 'Fambia' is represented. How to convince potential punters this is legit? Well, only the most ridiculously stupid sitcom idea will get our hapless duo out of their pickle… and, of course, the situation gets ever more preposterous as they cover their initial lies with even more unlikely lies
While most comedy shows currently place emphasis on credible characters and believable situations, Hailmakers is refreshingly old-fashions with its cavalcade of oddballs, notably the dim-witted cafe owner Diggins (Jason Barnett) who compares our hapless heroes to Ant and Dec, prompting much grumbling and bickering as to who's the sidekick.
Then there's the dark-souled Dionne (Kirsty K Curtis), owner of a local sporting goods store and employer of hardman enforcer Carl (Charlie Rawles); the Reverend's daughter Celeste (Rochelle Neil) who'll only sleep with Saz if he embraces the faith, and irritatingly smug small-time copper 'Snitchard' (Martin Delaney).
The script from Jon Macqueen is often dumb, but it's executed with great charm and an energetic pace, making a virtue of the silliness without forcing it. Meanwhile, Ndifornyen and Kayo have the right sort of loser charisma that could have viewers tuning back in week after week. Commissioners take note…
• Hailmakers was released on BBC Three's iPlayer channel today. Watch here.
Review date: 4 Dec 2017
Reviewed by: