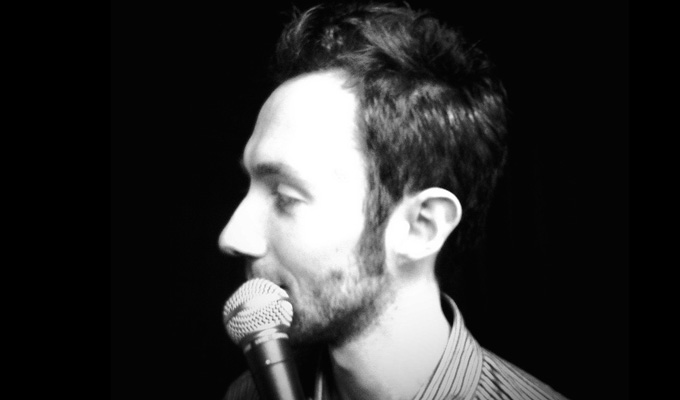 David Ephgrave: Now Who's a Comedian?
David Ephgrave knows his show has the sort of title that invites reviewers to give a sarcastic answer. But it's hard to avoid the conclusion that while he fulfils a lot of the technical requirements of the job, there's a missing essence that would make him stand out in the very crowded market of would-be comics.
He certainly has a confidence on stage and a clear and precise way of communicating that comes from a drama-school background. But he also has throwbacks to that training he might be well be advised to ditch. For example, when he bends himself double in apparent frustration at whatever he's complaining about, it feels overly theatrical, and utterly insincere.
For he seems to be grappling to find an angle on which he can seem passionate. On one level, he's a Groupon Dave Gorman, with a PowerPoint full of odd things he's seen, especially charity shop nick-knacks or peculiar adverts.
But although some of his finds are a little amusing, his wry comments seem superficial, and sometimes forced – seeing keyboard atop a dressing table he labours the idea it's an all-in-one solution. No, it's a keyboard on a table. And I think the man who named his delivery company Rocket Van already knew about the Elton John song, Ephgrave cannot better the original joke.
One reason for Ephgrave's blandness might be there's not much in his own life to complain about apart from a) looking a bit like Noel Edmonds, and b) not being that successful – as the very sparse audience in the Leicester Square Theatre Lounge attests.
He compares his career to that of Sam Palladio, a jobbing actor who he once replaced in the West End musical Dreamboats and Petticoats and who here is held up as some sort of elevated A-lister. This section doesn't have anything like the same impact as when Jack Whitehall exaggerates his obsessive rivalry with genuine megastar Robert Pattison. While Whitehall makes hay from his insecurities, here – as with so much of Ephgrave's show – it feels very perfunctory.
If Whitehall is the second famous comic to whom Ephgrave pales in comparison, Tim Vine in the third. For the lesser-known drops in the occasional pun (the one about Anne Boleyn which made a pre-Edinburgh list of the best jokes of the Fringe is a good 'un) and several jaunty musical jingles, apropos of nothing. He's got a great voice – you can see why the West End came calling – but using Donald Trump in a Nelly The Elephant parody ('Trump, trump, trump') is as good as it gets.
The only segment that stood out in this peripatetic show was an enjoyable bit of nerdiness when Ephgrave mocks the affectations of various voiceover guys, which is a solid example of a comic becoming obsessed with the unimportant. A similar visual tic from Alexander Armstrong is another amusing, offbeat observation. But it's sparse spoils for an hour of comedy.
Ephgrave comes across as a nice guy with a robust delivery, but the show is a festival of mediocrity – mild, indifferent stuff that it's very hard to buy into. The titular question remains unanswered.
Review date: 1 Dec 2017
Reviewed by: Steve Bennett
Reviewed at: Leicester Square Theatre
What do you think?