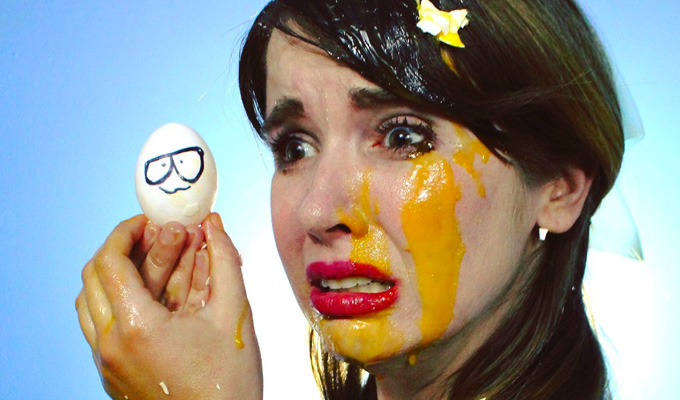 Natalie Palamides: Laid at Soho Theatre
Note: This review is from 2017
From the first couple of minutes of Laid, you might wonder what set this so far apart from the avalanche of modern clowning shows that it earned an Edinburgh Comedy Award best newcomer nomination this summer.
Because all the familiar tropes of the Gaulier school are present as the initially silent Natalie Palamides makes the audience figure out what's going on, inviting awkward interaction with her imploring eyes.
Yet soon after she is hatched from her giant foam egg – so misshapen it looks unfortunately like the poop emoji – it starts to become clear what makes this Pittsburgher such a formidable physical comic performer, with a daredevil spirit and a jet-black sense of mischief that borders on the reckless.
The premise of Laid is loosely connected to the common American middle school project in which young teenage girls are given an egg to look after, 24/7, to teach them about the responsibilities of motherhood. Palamides, seemingly sweet as apple pie with her Judy Garland dress, lays her own egg, draws a cheery face on its perfect shell and prepares to bring up baby. But, you know, she's also hungry and there is a hotplate on stage…
Time and again she gives birth with various outcomes. Or rather the same outcome by various ways. Sometimes her offspring are smothered by love, sometimes destroyed by carelessness – and mollycoddling them against the ravages of the outside world doesn't work out too well either.
But while this show – put together with the help of Gaulier disciple Dr Brown – is inspired by ideas of maternity and the fragility of life, it is more overwhelmingly ridiculous: a messy, surreal, raunchy, physical romp as Palamides throws herself in to the slimy viscera that soon covers the plastic-covered stage.
She can spin from an outrageously silly set piece to the harrowing dispatch of her latest 'baby' in a instance. So heartbreaking are the poignant moments that maybe there should be a trigger warning for anyone who has suffered problems with fertility. There should certainly be one for those who would be mortified by the idea of audience participation, lest you be called on to be a newspaper boy, a father – or the neighbourhood paedophile.
One woman in the front row of opening night for this Soho Theatre run resolutely refused to play along, and Palamides took a high-risk move of challenging her to the very point of palpable discomfort, before restoring the show's natural balance. Because for all the extravagant, sloppy silliness, this Upright Citizens Brigade-trained comic is a master manipulator and a very skilled improviser, rolling with whatever responses she unleashes from her patsies.
Laid is often a riot, sometimes unsettling, and certainly a bold and ambitious calling card for Palamides and her endlessly energetic, all-in style.
• Natalie Palamides: LAID is on at Soho Theatre until November 18; then again from December 22 to January 13.
Review date: 9 Nov 2017
Reviewed by: Steve Bennett
Reviewed at: Soho Theatre
Recent Reviews
What do you think?