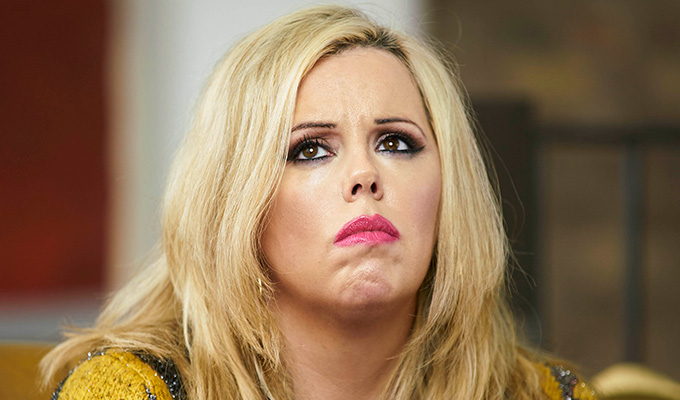 Gameface
Note: This review is from 2017
It's probably impossible to review Roisin Conaty's Gameface without mentioning the F-word: Fleabag.
For like Phoebe Waller-Bridge's award-magnet of a show, this new E4 comedy revolves around a feckless single thirtysomething woman, adrift in life, who drinks too much and hooks up with inappropriate men.
However, Conaty's alter-ego Marcella (the comic's own middle name) is not so nihilistic, nor perhaps as emotionally complex, as Waller-Bridge's creation. But she's no less funny, nor any less of a mess.
Marcella is a struggling actress – although even that is an overstatement. She's a temp who occasionally does children's parties through her hangovers and can't remember the last time she went for an audition. Her mother has bought some life-coaching sessions– which has to be something of a hint – and the therapy-like meetings with Graham (Green Wing's Karl Theobald) allow her to reflect on the state of her life. It's also a nifty writing device to give an insight into her character's thought process.
Her more together friends Caroline (Caroline Ginty – Conary's real-world flatmate) and Lucy (Nina Toussaint-White) also serve as a reminder of where she probably should be at this stage in life, as well as being there to give a non-judgemental word of disapproval disapproval when she awakes after a big night having pulled a man who's never seen Friends (a memorable cameo from Ben Clark from Pappy's) and realised she drunk-messaged her ex- far too often.
In episode two, also airing tonight, it transpires that said ex Simon (Dustin Demri-Burns) is probably an even bigger screw-up than Marcella, hard as it might seem to imagine. As is a suicidal co-worker she encounters (Catriona Knox), both of whom put things into some sort of perspective.
Maybe, you see, Marcella isn't such an irredeemable lost cause after all… although the way she exploits the aftermath of that potential suicide is a brazen display of selfish insensitivity worthy of Larry David, right down to the righteous indignity when she's caught out.
Yet there's also some hope things might pan out well for her – not least with the driving instructor who's clearly besotted, but she's too addle-brained to notice.
All of which adds up to an auspicious start for Gameface, a series which is well-pitched between slapstick and the comedy of cringe and features plenty of funny moments as well as surprising empathy for the lead character.
There's certainly a maturity that feels more Channel 4 than E4 – and hopefully its place alongside the channel's brasher offerings won't mean Gameface is overlooked. For the many years this comedy's been in development otherwise seem to have paid off.
• Gameface is on E4 at 9pm tonight.
Review date: 12 Oct 2017
Reviewed by:
Recent Reviews
What do you think?