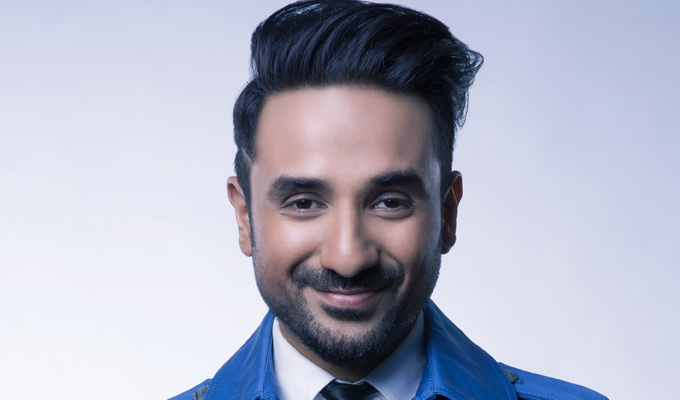 Vir Das: The Boarding Das World Tour
When Vir Das last played London ten months ago, he was in a 110-seater at Soho Theatre – now, as he's excited to point out, he's playing the 2,300-capacity O2 Forum as part of a wider UK (indeed, world) tour.
It's a rise he attributes almost entirely to his stand-up show Abroad Understanding being released on Netflix in the meantime, making him the first Indian comedian with a special on the platform.
His wider reach means a wider frame of reference too. Though the audience here are also Indian, by a large majority, he takes pains to ensure the British contingent are briefed on the background points, too. Or at least most of – there are still a few punchlines he keeps just as an in-joke between him and his closest billion countrymen.
So it's something of an education for the rest of us to be filled in on subjects such as the ghost women with backwards feet, the oratorial techniques of Prime Minister Narendra Modi or the epic myth of Ramayana. You could hardly call such subjects hack, and for the latter he offers a mimed reconstruction, which is certainly a break from his normal easy-flowing banter, and focusses the audience's attention through its silence.
Speaking of the crowd, he's probably drawing punters who don't go to stand-up all that often. That the hoary old heckle put-down 'this isn't TV, I can see you too' gets an early applause break is probably evidence of that. Cheap Donald Trump jokes also get disproportionately rewarded. Although when Das expands into imagining Potus tweeting, he acts it out with a rewritten version of Bohemian Rhapsody and a fittingly baroque performance that makes it hugely entertaining.
Das always sells his material convincingly, with punchy, emphatic sentences and a fast-flowing delivery. In his introduction, he claims to be a 'stupid' kind of Indian, but he actually plays from a high status standpoint. Well, you'd have to be to make jokes at the expense of Martin Luther King and Mahatma Gandhi. For a Hindu, he has a blasé attitude to sacred cows.
Not everything is quite so bold: some of the routines rely more on his ability as a performer to make anything into a great story than actually being a great story. Yet there are also some excellent routines. His suggestion of a Christianity-Islam merger is a tour-de-force, culminating in a genuinely delightful pun.
There's also an interesting segment about how he grew up in Lagos, and went from being rich in Nigeria to newly poor when his family went back to India. His winding up in a grubby Delhi state school following his experiences at a private boarding school provides strong material, but one of only a few glimpses into his background.
There are a few sections that probably need finessing, such as a routine about feminism with starts as if it might be offensive, with the gag being in the turnaround that it's actually coming from a good place. Which is all well and good, were it not for the subsequent clumsy punchline about women being bad drivers and few 'men are like this'/'women are like that' generalisations.
Das isn't just a stand-up, he's also been in a number of movies, including one turkey so bad The Times Of India declared his comedy career 'officially over'. On the contrary, it feels that when it comes to performing stand-up for the Western market, he's just getting started.
That might mean a few more tweaks till he gets there, but he's got all the makings of a mainstream global comic.
Review date: 28 Sep 2017
Reviewed by: Steve Bennett
Reviewed at: The Forum
What do you think?