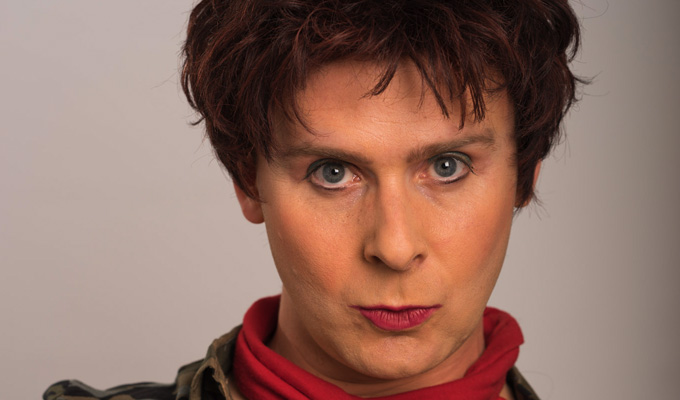 Colin Hoult: Anna Mann – How We Stop The Fascists
What is humanity's best chance to defy the Fascist uprising sweeping the West? Why it's theatre, of course. And who better to lead that charge than the doyenne of the obscure political play, Anna Mann?
In this perfectly timely show, Colin Hoult's magnificently flamboyant and self-aggrandising alter-ego promises to tackle insular, intolerant thinking wherever it falls on the political spectrum.
The larger-than-life thespian is a joyously outrageous creation, and the show full of sardonically knowing jokes about the impotence of theatre. But behind its cheery, camp mockery, How We Stop The Fascists – now enjoying a post-Edinburgh run at the Soho Theatre – actually proves to acerbically pointed about its targets.
Easily enthused, Mann is a compellingly gregarious host, bounding with delight in her audience interactions and trilling her excited catchphrase: 'Fuck off! I love it'. Her highlighting of the evils of fascism comes via a series of character vignettes (a little more straightforward a format than Mann's 2016 show which modestly aimed to eradicate global depression) and a cheeky parody of verbatim theatre.
It's supposed to be a joke at the expense of her raging ego when she boasts how much she sacrifices her own personality to inhabit these characters, but versatile Hoult truly does becomes these meticulously observed people, so utterly does he inhabit them.
The first, and probably best, is Nick Crippin, the middle-aged 'white male man' who feels marginalised because he apparently can't show his racism any more (though he still manages to let quite a bit of it seep through). He's a note-perfect rendition of a certain sort of suburban Little Englander, trying to couch his prejudice in unconvincing bonhomie, choking back a verbal reflux each time he highlights something inappropriate.
Similarly disenfranchised, but this time over his masculinity is Andy Parker, the trakkie-bottom wearing blokes' bloke from Nottingham (Hoult's real-life hometown) who can't understand why women want any more from life than looking 'fit'. And like a true man, he indulges in zombie-slaying fantasies, imagining himself the star of his own kick-ass film… although his imagination doesn't stretch to character names. It's a great touch of detail how he channels Sean Connery by muttering 'Moneypenny' to himself in a Scottish lisp.
But it's not just reactionary archetypes that Hoult mocks.The passive-aggressive, easily triggered Momentum supporter Cheryl, pouncing on the slightest imagined inconvenience as a brutal incursion into her safe space, will ring loud bells of recognition with a lot of the party faithful in Brighton his week.
Only Marjorie, the easily confused old biddy proudly saving donkeys or seals or whatever it is she signed up for, doesn't hook us in – but three out of four is still a grand strike rate for a character comedian. Though, of course, all pale behind the force of nature that is Mann herself.
The past-her-prime luvvie reminiscing about times gone by may be an old comedy archetype, but Hoult's credible, thoroughly affectionate take seems fresh thanks to her bizarre vitality. Nor has Hoult neglected the writing, with lots of great jokes, failed metaphors, surreal side stories, and barbed points behind the banter, about how easy it is to slip into totalitarianism.
To appropriate one of her catchphrases, '..it's actually incredibly clever' – even when it is being gloriously silly.
• Colin Hoult/Anna Mann – How We Stop The Fascists is at the Soho Theatre, London, at 8.45pm until Saturday.
Review date: 23 Sep 2017
Reviewed by: Steve Bennett
Reviewed at: Soho Theatre
Recent Reviews
What do you think?