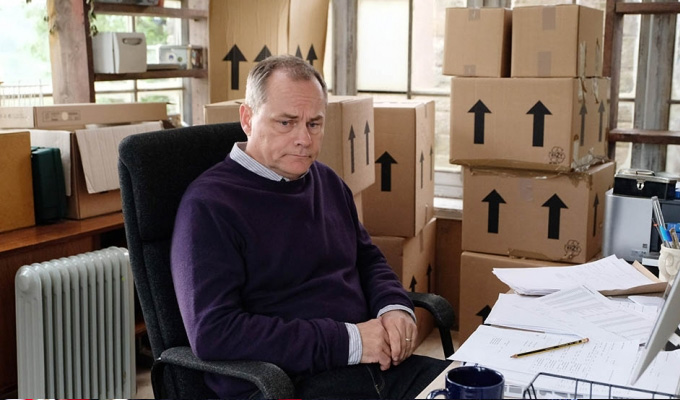 Bad Move
Urbanites moving to the country must be a sitcom premise commissioners are pitched almost daily, so it was surely Jack Dee's name attached to Bad Move – as writer, star and co-owner of the production company that made it – that convinced ITV.
And it's clear his famously grumpy schtick would fit the premise of a man frustrated by his new life, even if he's trying to put a stoical face on the fact he has made a terrible, irreversible decision.
His character Steve is a web designer who didn't think to check his new home in the picturesque North York Moors had internet before he moved in. Which means the main storyline of this first episode is a cheery IT guy fiddling about with modems in vain.
And it's not just a connection he failed to find, the search for punchlines also throws up a 'not found' error. The opener, which is very heavy on set-up, relies on Dee's pissed-off fissog to be enough for laughs rather than a sharp script or absorbing characters.
ITV sitcoms tend to be big and loud – think Benidorm – but Bad Move has a more sedate pace to fit the idea of the countryside as a place where not much happens. There's no studio audience, and the shots of the gorgeous landscape lend a filmic feel.
But the comedy is so gentle as to be impercerptable and the characters are fairly thin. Kerry Godliman does the best she can with Steve's affable wife Nicky, even down to a Leeds accent, but there's not much to get her teeth into, just that she accidentally agrees to mow a neighbour's lawn for virtually nothing just because she's too polite to put her foot down.
Seann Walsh plays a local village character called Grizzo, a dim but friendly musician with a quad bike, and that's about as much personality detail as there is. While Miles Jupp is neighbour Matt - always there with a cheery 'coo-ee' –who depicts the middle-class rural idyll Steve was going for but missed: self-sufficient with a home and family right out of a glossy magazine. And an enviably fast web connection.
The most memorable character is Sue Vincent as an intimidatingly surly shop assistant with husband out back whom we hear but don't see. An idea you might remember from Little Britain or Still Game, where they were at least creative in hiding Meena's face.
Bad Move is definitely not The Good Life, since Steve and Nicky can't do anything for themselves (and don't want to grow any veg). But it feels even safer than the 1970s sitcom: a couple of enjoyably wry lines and photogenic scenery barely enough to warrant a return visit.
• Bad Move is on ITV at 8pm
Review date: 20 Sep 2017
Reviewed by:
Recent Reviews
What do you think?