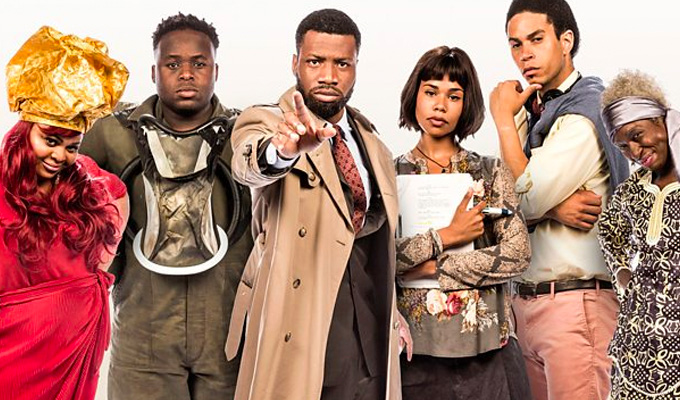 Famalam
Sketch shows on TV are a rare beast. Those featuring an all-black cast even rarer.
But Famalam, the latest BBC pilot, shows there needn't be such reticence on either count. For although it's not perfect, the lively direction and mischievous script make for a breezy half-hour that's always fun.
The defining tone is a sense of silliness at odds with the seriousness of the set-up, such as CSI-style crime scene or a new take on the familiar trope of the black guy always getting killed first in any sci-fi thriller.
Representations of Afro-Caribbean culture in the media is ripe for the mocking, from the cars, girls and bling stereotypes of hip-hop videos to the fact there are no characters of colour in Midsomer Murders. A couple of the ideas are a little obvious, such as a Nigerian prince genuinely trying to offload some gold yet baffled by the negative reaction his emails always get, but the team's strike rate is high.
The biggest downside is that the second half of the show is a virtual repeat of the first, with the same jokes and characters reframed only slightly differently. It's a stylistic hangover from the days Little Britain and the Fast Show, but feels like a cop-out for comedy that relies on surprise not catchphrases. Most characters aren't really strong enough for repeat appearances either, since they are just ciphers for the gags.
Still Famalam's most distinctive idea, in which they parody on-the-cheap Nollywood thrillers made straight-to-VHS is worth a repeat runout, their unconvincing green screen effects a cheesy delight. Scribbler P delivering a potted black history in a garage stylee is also a hit, not least because of the choice archive footage that accompanies it.
Famalam's certainly a solid sketch offering with a sense of its own personality, clearly derived from the ethnicity of its cast but certainly not to the exclusion of anybody else. After last week's The Other One, this is another promising comedy pilot for BBC Two.
• Famalam is on BBC Two at 10pm tonight
Review date: 20 Sep 2017
Reviewed by:
What do you think?