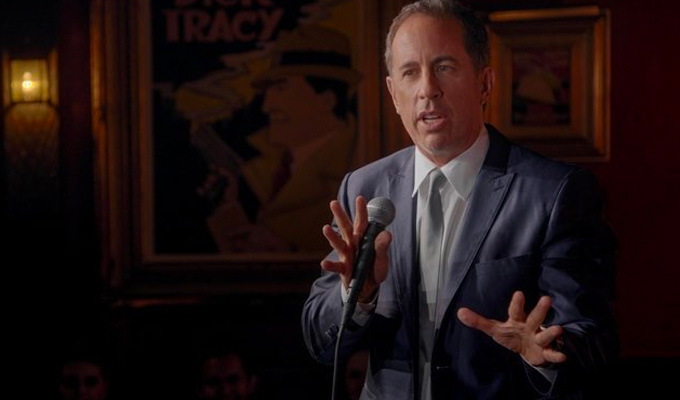 Jerry Before Seinfeld
Jerry Seinfeld's stand-up has never been about baring his soul, but his new Netflix special offers at least a little insight into how he became the sort of comedian who could sign a reported $100million deal with the streaming giant.
In Jerry Before Seinfeld, short segments of biographical documentary , home videos, ancient clips and faded photos (look at the size of that bow tie!) serve as chapter breaks between his stand-up segments.
It plugs in to the ever-growing number of shows and films about stand-up and stand-ups – a trend that owes a lot to his own 2002 documentary Comedian. And with its roots in the 1970s, the cutaways are especially evocative of the romanticised aesthetic of the US drama series I'm Dying Up Here.
The hour even starts with his first appearance on Johnny Carson's Tonight Show in May 1981, by which time Seinfeld had established himself as one of the regulars at the Comic Strip in New York, where this special was filmed. 'I only had one joked that worked,' he recalls of his early days – and tells it here. Everyone's gotta start somewhere.
As the title suggests, much of the material in this special dates from these pre-sitcom days. But Seinfeld was so universal, so perfectly polished, from the start, that the routines have proved timeless.
But the extra years add extra validity to Seinfeld's exasperation and comic irritability, that he's now speaking from a place of wisdom and middle-aged intolerance that gives extra heft to his performance. There is a grainy camcorder clip from back in the day in this special, and it's an interesting experiment to get on YouTube to watch the original routines from a more eager thirtysomething next to the new, even more assured, performance.
But however slick he is on stage, Seinfeld perfectly sums up the social awkwardness of many comedians away from the spotlight, by saying: 'I can talk to all of you - but I can't talk to any of you.'
If there was one word that sums up Seinfeld's comedy, it would be 'meticulous'. Both in observation and execution, everything is precise and engineered. He starts with talk of living 'in' New York city compared to 'on' Long Island, expanding out into several inconsistent uses of the prepositions with his usual forensic pedantry, and it's very funny.
Seinfeld admits that there was 'no drama in my world' growing up in comfortable suburbia, asking: 'Would I have been funnier had I grown up in Peoria in a whorehouse raised by prostitutes? Absolutely! But this is what I have to work with.' And few would argue that he hasn't mastered his domain when it comes to observations about the minutiae of everyday life.
The crumbs of autobiographical detail provide gateways into more general material – such as at the nostalgia of growing up 'like wild dogs' in the 1960s compared to the comparative mollycoddling of today's parents. But when he says the New York of the 1970s was a far sleazier place than today, he doesn't have any specifics.
It is, however, a special very much entwined with the city, flattering the crowd by saying all New Yorkers think hey are funny (and probably correctly surmising that most think they coulda been stand-ups too), before making city-specific observational quips about the likes of ineffective street cleaning trucks and crappy business awnings.
Filming in a small club, as opposed to the arenas he can fill, also has obvious resonance with the opening scenes of early seasons of his sitcom – and there was never a show that was more New York than Seinfeld (even if it was, disappointingly, filmed in LA).
There are lots of laughs over the hour, even if a couple of -up routines are starting to show their age, especially the old-school 'men are different from women' chunk. And a gag about the cops protecting the heads of dangerous perps as they get into a car has more recently nicked by Donald Trump to inveigle himself in with the police. (Not that Seinfeld would ever get much more political than wondering how the donkey and the elephant came to represent America's two main parties).
Though precise control is clearly a key part of Seinfeld's being, he has also embraced the increasing, and quite welcome, trend to include audience interruptions in televised stand-up, as most enthusiastically encouraged by Stewart Lee.
There's a strange interjection about the Superman bookends Seinfeld had placed on the piano behind him, while someone later hollers 'What's wrong with The Mets?', conveniently opening the way to a riff about pointless sporting tribalism.
Such unscripted exchanges – as well as the whole tenor of the documentary segments evoking the thrill of the clubs – proves a fine advert for the unique experience of live, intimate comedy that Netflix can never replicate. But if you are staying in, Seinfeld is excellent company for the hour.
• Jerry Before Seinfeld is released on Netflix today.
Review date: 19 Sep 2017
Reviewed by:
Recent Reviews
What do you think?