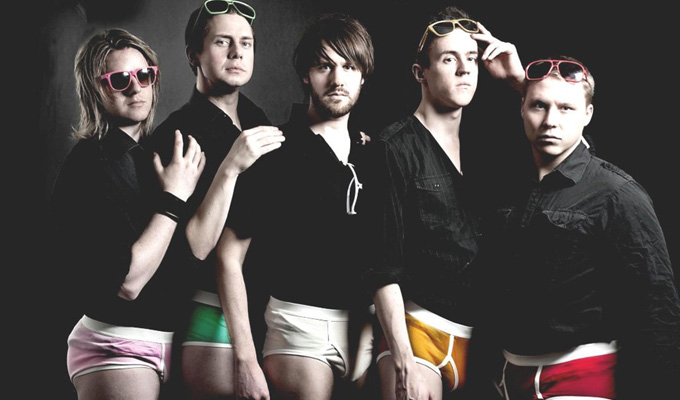 Late Night Gimp Fight [2017]
Once a Gimp, always a Gimp.
In the four years since their last show, the five members of Late Night Gimp Fight have moved on with their lives, settled down, had children, forged ahead in their other careers as they push towards their 40s.
An opening montage, to a parody of Lukas Graham's 7 Years, shows Head Gimp Lee Griffiths in simple domesticity – before his mind wanders back to the riotous good times and camaraderie of his sketch troupe. It's time to get the old band back together again…
It's a winning way of framing the comeback, this glimpse of the men behind the masks, though they don't fully exploit it beyond e a couple more appearances of the 'real' them – including an acknowledgement that their UK remake of Impractical Jokers didn't pan out as hoped.
Otherwise, it's business as normal: a riotous, rollicking, all-singing, all-dancing celebration of bad-taste comedy with production values other sketch groups can only dream of. They may have grown up, but their humour remains as puerile as it ever was, and bigger than ever.
The show rests on the phenomenal performance skills and high energy all five bring to the table. Songs are layered, dances choreographed, acting convincing. Add in a supporting cast of more than a dozen pet Gimpettes, professional quality video work, and a massive – and massively silly – prop for a showstopper and you certainly get spectacle. Even scene changes are meticulously planned, making the endeavour a well-oiled machine.
Pace is varied from one-line quickies – the punny rundown of sketches too dubious to do proving a brisk and hilarious catalogue of bad taste – to longer scenes and a couple of recurring ideas.
The quality of the jokes ranges wildly, too, from sucker-punch originality to awful groaners, but the way they are sold is fantastic. For example, there's an old Harry Hill line that goes something like: 'I have a really nice stepladder. Sadly, I never knew my real ladder' – which gets recycled here but becomes a full-on ballet number. Not stupid prancing about, but real skills shown by 'Jock Gimp' Matt Ralph, who would not obviously be a ballerino figure.
Songs are the stand-outs, the perfect storm of their talents and extravagance. Again the initial thought might be simple, but the execution divine: Justin Bieber's Love Yourself becomes Trump Yourself; there's Die Hard: The Musical (which may well be a real show at C Venues); and Kim Kardashian goes from human soap opera to just plain opera as they envisage a musical based on her fictional life, very much in the mould of Evita.
The Gimps offer comedy writ large. There are a few cracks in the writing, but for balls-out, full-throttle, joyously immature pizzazz, bring out the Gimps.
Review date: 28 Aug 2017
Reviewed by: Steve Bennett
Recent Reviews
What do you think?