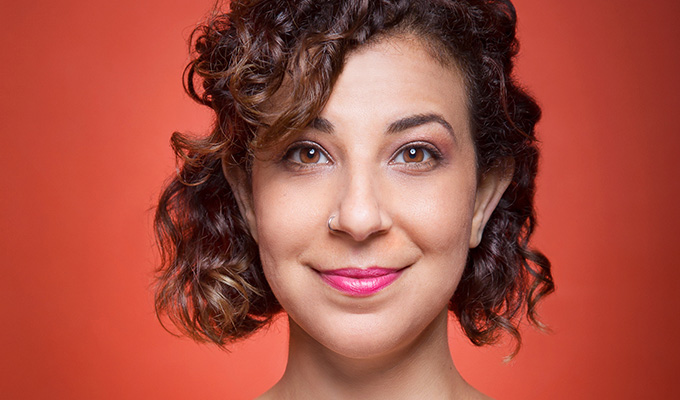 Maria Shehata: Wisdomless
Wisdomless is the story of how winsome American comic Maria Shehata moved from Los Angeles to London in the name of love. And whether by accident or design, her stand-up style mirrors where she is in the story: initially it's a slick, gag-driven US-approach, which gives way to more relaxed story-based approach.
But the tale is unresolved – she's still living through it – and the second half becomes light on jokes, as she tells us about the state of her life. But she's good company and endearingly willing to open up about herself and her imperfect relationship.
The most polished gags are the ones that feel like they must have been in her set forever, such as those based on her Egyptian heritage and how her ethnicity confuses a lot of Americans, who largely mistake her for being Hispanic. Safe comic territory, but effectively despatched.
We get to know a bit about her, profligate without the resources to back it up, and from a large family, her mother one of 13 siblings. There's material on dating in LA, and on how she doesn't want her friends to set her up with short men (she's 4ft 11in) for fear of appearing like a couple of Oompa Loompas.
After a cut-price foray into match.com, she struck up a friendship, then a relationship, primarily conducted over FaceTime, with her British boyfriend, a fellow struggling comic called Nick.In personality type, he's her polar opposite, calling her out on her financial recklessness, for example.
But now she has moved to Britain, the relationship has moved from the internet to real-life cohabitation, the stress lines are beginning to show and the future up in the air. Especially as she's not able to work here.
This is all engaging 'this is what I'm up to, guys' gossip, and Shehata is peppy and chatty, the honest insight into her real life appealing to the nosey parker in us all. But it doesn't seem particularly crafted. We laugh because we empathise with her situation and her warm, relaxed demeanour – not because there's an especially brilliant line or astounding story.
The one comedy constant is her Ukrainian therapist, who can always be relied upon to deliver a bluntly funny dose of no-bullshit advice, especially when calling Shehata up on her bad behaviour.
Wisdomless is a bit like a soap opera, building unresolved intrigue as to how her story will play out. It could do with a script punch-up, but she's an empathetic character who's effective at painting a picture of her tumultuous life.
Review date: 28 Aug 2017
Reviewed by: Steve Bennett
Recent Reviews
What do you think?