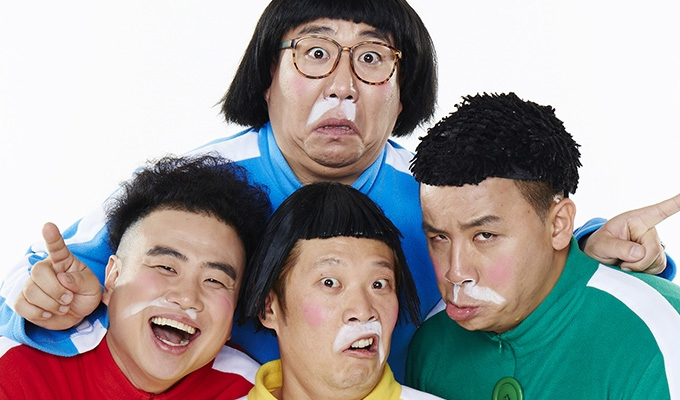 Ongals: Babbling Comedy
In their colour-coded romper suits and bibs, and with their stage based around a giant crate of toys, Korean troupe The Ongals make it blatant that their livewire visual comedy comes from a child's perspective.
Depending on the moment, that can mean they are either curious, playful, petty, selfish, sulky or show-offy, willing to do anything for the audience's attention and approval, applause being the only currency they seek. Pudding-basin haircuts somewhere between Jerry Lewis's Nutty Professor and The Three Stooges complete the look.
Their humour can be juvenile too – but when is a balloon pump up the jacksie not funny? And their fart gags are done with great panache.
Although the act is family-friendly, The Ongals hold plenty of appeal to adults, too, thanks to the skills and chicanery usually associated with street entertainment, drawing us into their stunt-filled world with their more-or-less wordless babble.
Initially, for example, the bespectacled chief Ongal, Cho Jun-woo, seems astonished by his ability to juggle, absorbed in wide-eyed, uncomprehending wonder at how he's keeping those balls up in the air, making him a more empathetic character than any faultlessly slick exponent of the art.
He's complemented by Choi Kyung-sun, the slightly more slow-witted of the core trio, and Ha Bak, the excitable force moving much of the action forward, an engaging three-way dynamic.
Balloon animals, bell-ringing and whip stunts all get a run-out too, not to mention the talent for mimed slapstick that underpins it all. And for the final act, adept beatboxer Choi Ki-seop kicks the energy up a gear, tying his talents to his colleague's exhibition pieces, as they build to a visually impressive climax. A delight for all ages.
Review date: 27 Aug 2017
Reviewed by: Steve Bennett
Recent Reviews
What do you think?