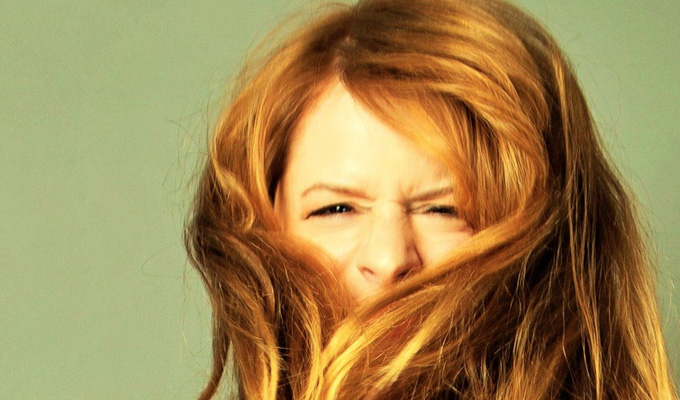 Amy Howerska Goddess... *Unless Tired or Hungry
Welsh-Jewish-Polish-Irish stand-up Amy Howerska does a fair chunk of comedy about comedy, talking for example, of the cliche of the dead dad show. Although there are, ironically, far more comedians who comment on how hack that format is than actually deploy it.
Such choice of topic does mean the first part of the show feels a bit parochial, stuck in the world of comedy clubs, even if the circuit's male-dominance, with dressing rooms feeling like a poor man's Top Gear and patronising comments from punters, feeds into wider 'everyday sexism' material.
So we hear justified complaints about being talked over in meetings and her Tinder date mansplaining the world of comedy to her, despite having little clue what he is talking about, as well as the negative words associated with opinionated women. 'If I were a man, I'd not be bolshy or difficult, I'd be Dave,' Howerska laments, echoing (advertently or not) Theresa May's ownership of the 'bloody difficult woman' phrase.
It's sad that this sort of chauvinistic behaviour is so universal, but it means the material is familiar, and Howerska doesn't really put much of a comic spin on it, above righteous exasperation over the awful sense of entitlement so many men have.
About halfway in, things take an upswing as she shifts the focus on to parenting, including the lackadaisical approach of 1980s parents to her own 'cray-cray' mum, who ended up marrying an 'adorable' Welsh racist.
She paints a beguiling picture of a curious family, with almost psychopathic traits, both hers and that of her Irish boyfriend. It's an alternate, self-contained, slightly weird world she vividly realises, thanks in no small part to her knack for creating cartoony caricatures, a highlight being her boss with a deliciously odd Cockney-Italian accent.
Howerska keeps the energy up with a commanding, upbeat performance, including a Bobcat Goldthwait impersonation of perfectly unhinged screeching, proudly niche, but all the better for it. And the show is dusted with witty asides, the gag comparing glitter to herpes being a clear stand-out.
Review date: 27 Aug 2017
Reviewed by: Steve Bennett
Recent Reviews
What do you think?