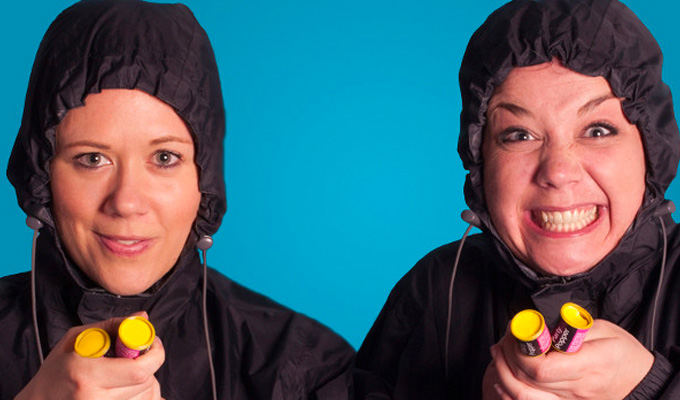 The Kagools: Tutti
Older Fringe-goes might remember Men In Coats. Well, now we have Women In Anoraks, another outwear-based silent comedy act.
Nicky Wilkinson and Claire Ford need their waterproofs, too, for Tutti is based on a life aquatic, primarily though the use of a giant projection screen which becomes a swimming pool, the pair of them dipping in and out of reality and film with… well, fluidity.
The transitions are both seamless, which is testament to their well-practised physical performance, and witty, which is symptomatic of their high-spirited comedy. And although the water may be on film, everyone in the room might find themselves in a splash zone. It gets damp in these Edinburgh caves…
Never fear, though as a lifeguard is on hand, courtesy of an audience sap called on to become David Hasselhof for an hour. Here The Kagools exploit the usual jokes that the audience in their seats twig what he is silently being implored to do well before he does, then cheering him on when he accepts the hero's quest.
In other skits the screen becomes a crackling electrical storm that offers a portal to another dimension, with a toy unicorn somehow able to command this gateway. Let's not get too hung up on meaning here, just know that the other realm produces a pair of gold sneakers that the girls compete for.
Tutti is defined by a sense of play, and wrapped in a party vibe thanks to the lively soundtrack they've chosen, the music doing as much to drive each sketch as the Wilkinson and Ford, with their expressive, wide-eyed faces and animated physicality.
Kudos, too, to their tech. Not just for hitting the cues on a complex show but for subtly but effectively rousing the crowd from the back, without being that annoying 'over-laugher' comics sometimes draft in.
Occasionally the energy flags, but certainly not as much as it might for a show based on the flimsiest of through-lines, and a certain repetition creeps in over the hour. But The Kagools are undeniably purveyors of a good a time, guaranteed to bring a smile to your face.
Review date: 26 Aug 2017
Reviewed by: Steve Bennett
Recent Reviews
What do you think?