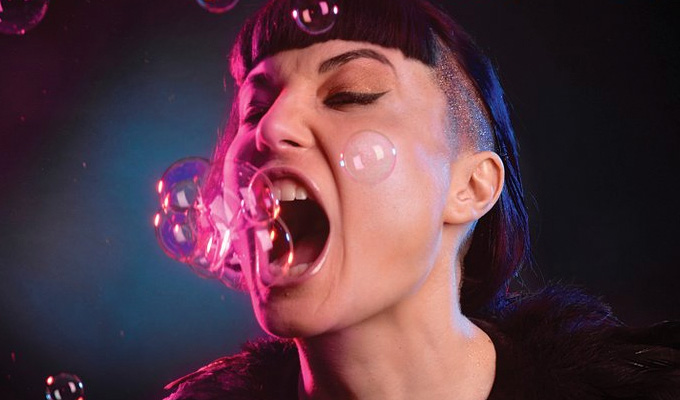 Bec Hill: Out of Order
Bec Hill has added a random element to her joyful show this year, proffering her set list on a grid of cards and allowing the audience to select the order.
It's not perhaps a great leap for a comic who's always seemed more at home a silly pun or buoyant song in place of a longer narrative, but it encourages a good-hearted audience interaction, and presumably keeps the show fresh for her, too. She certainly seems to be having a great time on stage, even so late in the festival.
Some of the cards represent solitary one-liners, their quality ranging from the proudly dubious to the sort of wordplay that deserves a standing ovation. We get a song early doors, too, thanks to the selection of Elon Musk, performed, on tape, by musical comic Jay Foreman.
It's a ditty about how the PayPal billionaire turned Space X chief has all the hallmarks of a super-villain, with Hill's most notable contribution to make a 'video' for the lyrics – achieved via a pop-up style book presented on a giant artists' pad, full of inventive lo-fi animations. This has become her trademark… but lest you think it is an invention concocted for a comedy gimmick, Hill here reveals that she has been making them since a child, via an example that's more darkly worrying than the jaunty image she projects today.
There are also some more regular stand-up sections, some colour-coded cards indicating longer yarns. Heckling stories are ten-a-penny, but Hill's one is especially unusual, with the audience's response – taking matters into their own hands to get around the disturbance – priceless. And Hill tags this great story with a neat joke. Apparently, it was interventions such as this that made her decide to put some of this show's fate in our hands now, which turns out to be something of a social experiment, making sense of the 'pick a card' device.
Not all the stories are so strong, but the delight of the smorgasbord approach is that it's nimble, switching gears and approaches every few minutes to keep the atmosphere lively.
Essentially Out Of Order is an hour of feelgood frippery, with Hill indulging her immature side. She's so charming and enthusiastic, taking genuine glee from her to-and-fros with the audience, that we're all firmly on board, sharing her delight.
Review date: 26 Aug 2017
Reviewed by: Steve Bennett
Recent Reviews
What do you think?