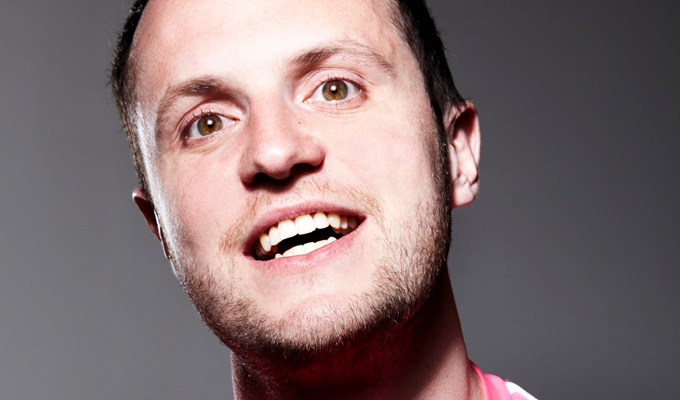 Jack Barry: High Treason
Note: This review is from 2017
If there were an award for 'outfit of the Fringe,' Jack Barry would surely be a contender, taking to the stage in a green suit-and-tie combo, patterned with giant ganja leaves. It makes him look like the 'weed Riddler', he jokes.
The outlandish get-up is because the over-cheery comic is dedicating his hour to a single topic: making a case for the legalisation of drugs.
You'll probably have heard many of the arguments before: that legal booze has more negative medical and social consequences than Class As such as ecstasy; that prohibition has failed to stop drug use anyway; that a legalised supply chain will mean safer, regulated drugs and a taxable revenue; that marijuana has medicinal benefits; and that criminalisation disproportionally targets certain racial groups (clue: it's the non-white ones) to make jail almost a fact of life.
Barry doesn't add much more to those pretty comprehensive, if frequently heard, reasons to relax the law. He affects the stance of a provocative rebel, but he's backed by a weight of scientific, economic and social evidence well covered in broadsheet newspapers – which can't help but dampen any anarchic potency.
For Barry is not stereotypical pot-head drawling about being oppressed by The Man, but a self-aware young man with a lot of personal anecdotes around the subject, that don't ignore the incontrovertible fact that drugs get you high, and can make you act like a prat. For that is where most of the comedy comes from.
However his first encounter with narcotics was from the other side of the legalisation fence, being allowed to join a drugs bust while on work experience in Germany. It really is health and safety gone not nearly mad enough, but provides an early story he can never quite top.
In a reversal of the usual order of things, he saw the folly of his early days after maturing a bit and started to take drugs, providing him with stories of 'when I got high', from time slowing down to paranoia kicking in.
His delivery style doesn't have so many highs and lows. He's always excitable, full of nervous energy and a bit too eager-to-please, which does lead to a certain tonal blandness to his barrage of opinion and anecdote. There's a fine line between irritating and forceful, and Barry hops from side to side. Meanwhile, some of the druggy stories have a familiar ring, since the topic isn't entirely alien to comedy.
But it's a show that's been as well put-together as a well-rolled joint, with well-researched evidence as its dope, anecdote as its roach and Barry's ingratiating charm as the Rizla. Worth a toke.
Review date: 25 Aug 2017
Reviewed by: Steve Bennett
Recent Reviews
What do you think?