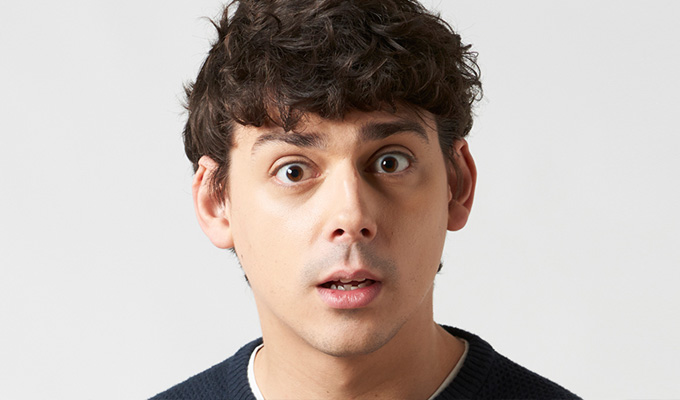 Matt Richardson: Slash
Note: This review is from 2017
Matt Richardson is, by his own assessment 'on stuff, but not famous', an ITV2 semi-fixture with his own drivetime radio show. A pointless answer on Pointless recently, he's also been sliding down the rankings in that barometer of telegenic young comics, Heat magazine's Weird Crush of the Year.
That's the kind of celebrity level that ensures you get 'slash' erotic fan fiction posted about you online, though invariably as the second billed co-star in a gay scenario with Harry Styles. Cynics might suggest that basing a significant chunk of a Fringe show on the writing of others is lazy. But then who's to say how many of these anonymous postings are written by genuine, over-stimulated One Direction fans?
Either way, their presence is a decidedly mixed compliment to Richardson. By his own assessment, he's 10/10 attractive but these teenage girls portray him as an obstacle between them and their favourite pop star, their intuitions about his insecurities only coincidental.
Sharing these posts from a book while sitting on a spotlit stool, as if imparting great literary works, they're predictably feverish and overwritten, though hardly less graphic than the stand-up Richardson intersperses them with.
Opening with the account of a heckle he received while mock-flirting with a 15-year-old boy in the front row of one of his gigs, he lambastes the unrelated woman, several rows back, who got offended and started a slanging match with him. Included to mock the self-righteousness of someone outraged on somebody else's behalf and a taste of the 'filth' to come, the triumphalism with which Richardson claims his pyrrhic victory is curious, to say the least. Is fighting for the right to evoke a 15-year-old's bumhole truly a hill worth dying on? At the start of an Edinburgh show?
This audience certainly isn't convinced and from this moment on, Richardson has a job on his hands conveying his charm. A conversation with his girlfriend about choosing names for their hypothetical children finds him rejecting one option because it also belonged to a girl he had anal sex with. Never mind the two-to-tango double standards that you'd hope he's aware of. We're scarcely five minutes in and the slash fiction comes as relatively innocent relief from all the talk of children and sexually penetrated arses.
Like a few other comics whose presenting career has surpassed and taken them away from stand-up to an extent, Richardson seems to remember the beats but has misplaced his empathy, with no plan B.
'You don't like the bum jokes or the crap puns; there's no middle ground!' he admonishes. And that's before lamenting our 'passive aggressive silence' after some graphically mimed masturbation, the comic exaggeration of his gurning display scarcely justifying a routine that's a friend's experience anyway. I want to be wanked at with feeling.
He's capable of so much better, an amusing routine about his mother seeking to induce labour in Marks & Spencer's for the free goodies and his grandfather enjoying his Alzheimer's because of the irritation to his gran, retaining a grain of reality. Contrast these with the friend's eight-year-old child that Richardson sets up as a straw man of middle-class pretentiousness, laughing in the face of his gastronomic ambitions.
What's frustrating is that he can strike a compelling balance of arrogance and vulnerability when the mood takes him, recalling the time he found out his ex was cheating on him and the pride he took in his witty comeback. But such moments are rare amidst a torrent of crud.
Review date: 24 Aug 2017
Reviewed by: Jay Richardson
Recent Reviews
What do you think?