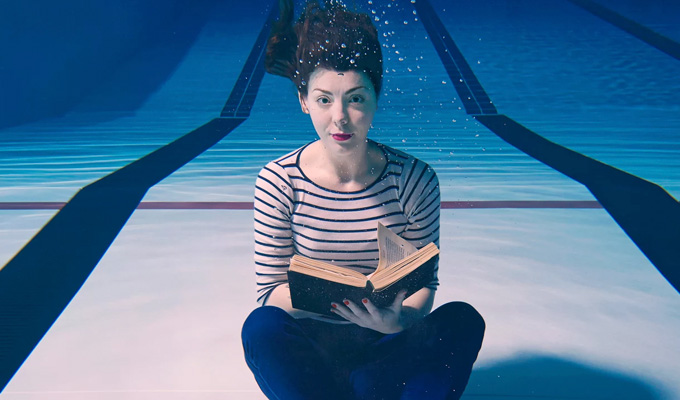 Good Girl
Note: This review is from 2017
Good Girl is one of those perfectly formed, well-polished Edinburgh debuts that proudly announces: 'I'm here' with a strong distinctive voice.
Naomi Sheldon's tale starts with a sexual awakening in the mid-1990s, and ends in the present day, with her trying to figure out the expectations placed upon her.
How much of this is autobiographical isn't clear, but it certainly feels 100 per cent real: testament not only to Sheldon's phenomenal acting abilities to so thoroughly occupy the story she's telling, but her deft writing skills too.
It may be an over-used comparison, but she has a touch of the Victoria Wood in the way she can draw out humour from the minutiae of everyday experience – but then she goes beyond that to add layers of psychological examination. Good Girl is as much theatre or spoken word as it is comedy, but Sheldon's prime sensibility is drollness, and she sees the funny side in behaviour that isn't always intrinsically comic.
There are perfectly evocative, nostalgic references such as the digital watch bubble ring she wore as a pre-teen, but they adorn the story, not define it. Similarly, there are plenty of pop culture references, not least to icons such as Madonna, Michael Jackson and the Spice Girls, but not too many to overwhelm the personal truth of the monologue.
Sheldon's alter-ego, GG, the initials of Good Girl, first becomes aware of her sexuality through an 'unexpected tingling in the fanny' aged ten. Fast forward a couple of years, when she starts getting even more curious about how things work with her coterie of teenage pals, whom Sheldon brings to convincing life through excellent mini-characterisations.
However, GG is also starting to develop body issues as well as anxiety pressures, fears she eventually managed to conquer through total suppression of her emotions, encasing them so firmly that she cannot feel anything. But at least people will like her, right?, even if she doesn't like herself…
This comedy of experiences both ordinary and extraordinary feels like its a pre-packed play, ready for Radio 4 at the least, as it explores with a maturity, wit and an outstanding performance the pressure young women are under to please other people and the vulnerabilities that exposes.
Review date: 24 Aug 2017
Reviewed by: Steve Bennett
Recent Reviews
What do you think?