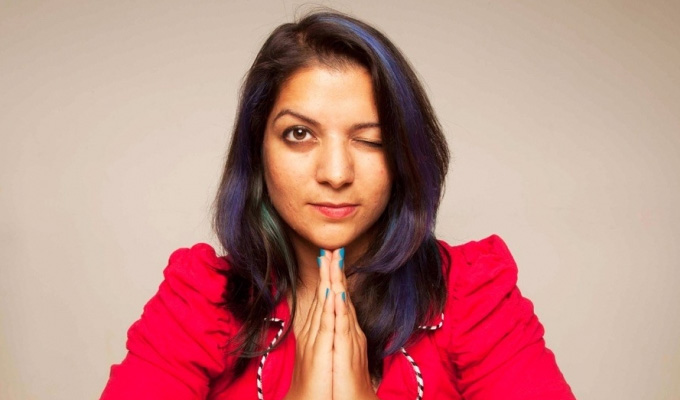 Aditi Mittal: Global Village Idiot
One in a million? How about one in a hundred million? Out of the 1.3 billion people who live in India, Aditi Mittal reckons she's one of only 12 English speaking female comedians. That's an even worse ratio than your average Mock The Week panel.
It means her very existence as a comic in Edinburgh is interesting, and there are certainly lots of fascinating insights into a different way of life in her debut here – even if she doesn't quite dig as deep as she could. She berates Slumdog Millionaire as superficial, even if that could apply to much of her show, although she certainly avoids the 'poverty porn' of that blockbuster.
Not that she shies away from the problems back home. She acknowledges she's almost upper-class by Indian standards for having access to a toilet (and her strongest section is an hilarious revelation about the culture difference in using them) and that she's astonished by wasteful Western attitudes to precious food.
She has an absorbing storytelling style - exhibited from the get-go with a tale about finding a seagull in her Edinburgh flat. It was definitely male, she reasoned, given his arrogant sense of entitlement.
Her show is, by turns satirical, observational, anecdotal, biting and conversational – which is at the expense of her really getting her teeth into a particular style or extended train of thought, although she's always first-rate company. And the title, Global Village Idiot, perhaps suggests she'd be playing dumber than she is, when it's clear she's got an astute comic brain.
Religion, bodily functions and, to a limited extent, sex are the cornerstones of her act, which also spans courting rituals in Bollywood films and the concern she causes by being unmarried at 31, though again there's surely more to this topic than she's letting on here. She is defying a lot of conventions by being a woman in comedy in what largely remains a very traditional country.
Indeed, many of the big issues, primarily colonialism, are raised but skated over – perhaps because she feels the tension its mention causes in the room. A bolder comedian would run towards that tension, not away. And some of her observations veered towards the hack, a symptom, perhaps, of coming from a still relatively young stand-up scene where the obvious is not yet overdone.
Nevertheless, as a way of introducing herself, Global Village Idiot, is a fine calling card, if broad in scope. I hope she comes back and tells us more.
Review date: 24 Aug 2017
Reviewed by: Steve Bennett
Recent Reviews
What do you think?