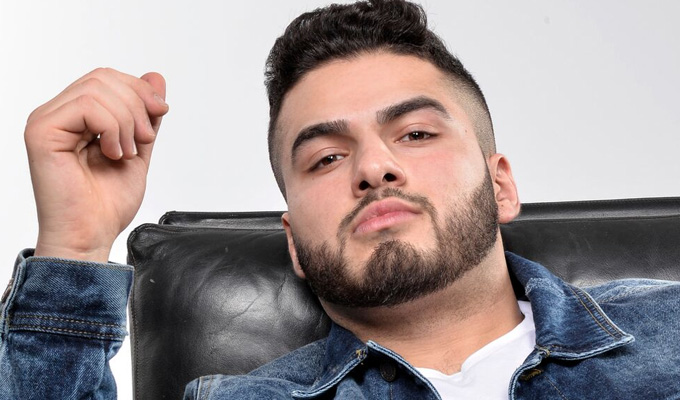 Kae Kurd: Kurd Your Enthusiasm
Note: This review is from 2017
It's asking for trouble, having a show title that's a pun on one of the greatest ever sitcoms. But take Kae Kurd's show from a standing start and he has a good debut under his belt.
The son of Kurdish refugees and a refugee himself, Kurd has an interesting perspective on matters such as race and identity, and it's this that he focuses on almost exclusively.
He can't help but be political, he says, the very fact of his being a refugee makes him political. Having absorbed the English language at a young age, he acted as translator for the family, reading bills at the age of nine to his dad. In fact, Kurd has some good material on his tough father who is clearly a role model to him, and I suspect there's plenty more to come.
As you might expect of someone whose parents fled from an awful situation in the Kurdish region of Iraq, Kurd delivers some withering attacks on e-activism, and protests that are too middle-class to be angry. He's eloquent and funny with it, a real gag merchant who is strident without being ranty. As if to set the tone of the gig, he starts with a funny routine about Isis and what might appear in Isis's in-house magazine.
It could be that Kurd's patchwork identity is his biggest asset as a comedian. He says he feels like he can fit in anywhere – he was born in one country and grew up in another, born working-class and now middle-class, cut his teeth on the black stand-up circuit and now is at the Edinburgh festival.
In a standout routine, which also demonstrates that he can do silly as well as serious, he imagines various big-name comics like Kevin Bridges and John Bishop trying to do a black comedy gig.
There's a limit to Kurd's original material though. In a routine about gentrification (Kurd has lived in Brixton for a couple of decades), he talks about a gang member ordering a caramel Frappucino from Starbucks, and another gag riffs on the idea of Britain loving Middle Eastern working-class food – what might that look like the other way round? That kind of 'unlikely cultural clash' material is quite one-dimensional – any comic can make that gag, and many of them do.
Another joke comparing being a commitment-phobe to phone contracts is an old chestnut that a really good comic wouldn't countenance using.
Kurd gives us plenty to chew on, but also plenty that can be ignored. He, without doubt, has talent as a comic and some unique takes among the more humdrum stuff. One to watch.
Review date: 23 Aug 2017
Reviewed by: Paul Fleckney
Recent Reviews
What do you think?