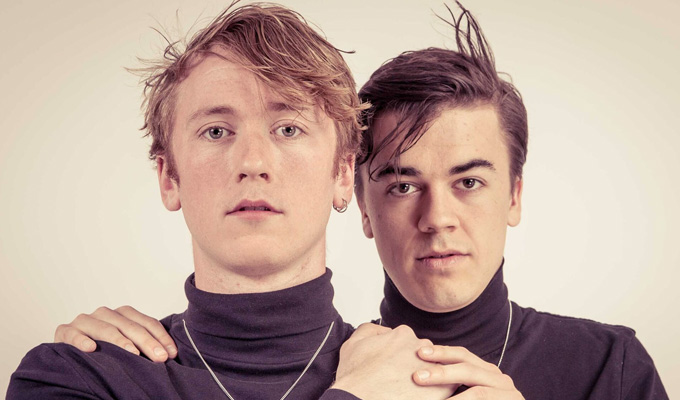 Giants: For an Hour
You can kind of tell that Will Hislop and Barney Fishwick are best buddies. Their second Edinburgh show is a silly and rather sweet one, which tells the story of their 24 years growing up together – and the fact they seem thick as thieves makes the show a pleasure to watch.
They use the power of sketch to trace their friendship, from early school trips to teenage talent contests, to now as a fully fledged double act.
The only thing that threatens their bond is a disagreement about their comic creation Fjord – a Norwegian Eurovision Song Contest act. Will still loves to muck around as Fjord, but Barney is above it now, a proper actor.
It's a fun thread that runs through the show and gives the whole thing a bit of direction. Perhaps to ward off any inverse snobs, they also poke fun at their privileged upbringing, with Barney trying unconvincingly and amusingly to pass himself off as a bit of a gangster.
In everything they do, the pair have spark and energy, and this holds the show together more than anything else. The actual quality of sketches and songs is more up and down. In one of the better moments, they play their own parents in an audience, watching them onstage and awkwardly realising it's not as good as they'd hoped. (Will is Ian Hislop's son in real life)
Their sketch about the British citizenship test nicely sends up backward British attitudes towards immigration, including a nice gag about the prospect of a black James Bond. Their best turn as Fjord is an amusingly moronic song that suggests partying as an antidote to war.
Nothing during the show really catches fire though, the ideas and writing a few notches down from, say, Gein's Family Giftshop (who admittedly have a few more years experience on their side). For An Hour has a few broader weaknesses too. Structurally it seems to have two beginnings, one at the actual beginning and another about ten minutes in, which throws you a bit.
And they don't have a completely settled dynamic yet – when it comes to their argument about Fjord, Barney is the earnest party pooper, and Will is the puppyish enthusiast, but outside of that, the central dynamic is that Will is always living in Barney's shadow. This feels unreconciled, and may be a reason why they as a double act and For An Hour as a show lack a distinct identity.
For an Hour is another decent showing from Giants, but they remain an act who have plenty of potential that's not yet realised.
Review date: 23 Aug 2017
Reviewed by: Paul Fleckney
Recent Reviews
What do you think?