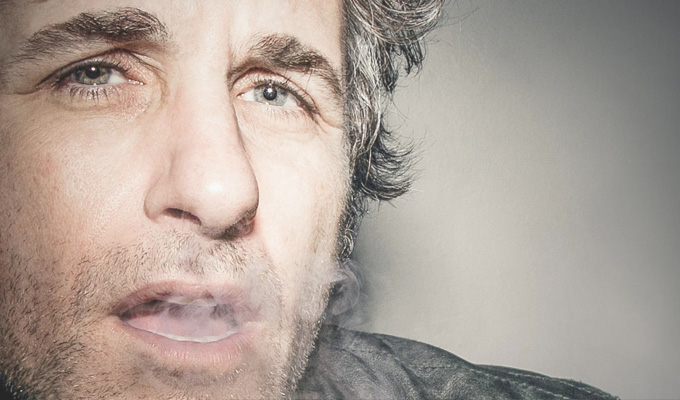 Tom Stade: I Swear
Note: This review is from 2017
Well into middle age, Tom Stade retains a rock-and-roll swagger in his feisty stand-up, even able to flick devil-horn fingers to the crowd and it not feel ironic.
Yet he's more playful than bellicose, with hints that the reality of his life away from the stage is a little more suburban that his strut would suggest. He might crack near-the-knuckle jibes about his wife in that gruff, commanding Canadian brogue, but you suspect things are different at home. And along with the rebellious posturing, he's got sackloads of charm.
'Are you ready to laugh about anything? If not, get out,' he asserts from the start. Though that's more part of the rebellious image than a reflection of what he's actually going to say. Sacred cows can graze easy enough, just as long as they don't mind f-bombs being used as commas. And the language warning is embedded in the title.
The march of time is the theme for the comic's return to stand-up following a year's sabbatical. He selects three people from his audience to represent the baby boomers, the middle-aged and the millennials, checking back between routines as a nifty linking device.
First thing to note is that Stade had been performing comedy for the best part of a decade before the 20-year-old he picked had even been born – a wealth of experience that gives him a poise and free-flowing spontaneity that can only be won over time.
The pick of these interactions are with the (relative) old-timer, as Stade demonstrates gleeful contempt of the convention that we should respect our elders, by asking intrusive and inappropriate questions that the punter, admirably, refused to be embarrassed by.
He probed his representatives about their attitudes to life, and at what point technology passed them by – as it will to us all. In many ways, this is staple comedy stuff, but Stade's got strong jokes throughout, with the crowd work elevating the experience, making it loose, too.
Away from this core work, there's a gonzo-style to his stories from his travels, including the Haze between fact and fiction as to whether he really did encounter a boy soldier in Mozambique. And in a rare reference to politics, he makes a pointed comment or two about Saudi Arabia's shameful human rights record.
A couple of routines come off the boil compared to his best, but this remains a mischievous, high-spirited hour of no-nonsense stand-up from an expertly skilled pro.
Review date: 22 Aug 2017
Reviewed by: Steve Bennett
Recent Reviews
What do you think?