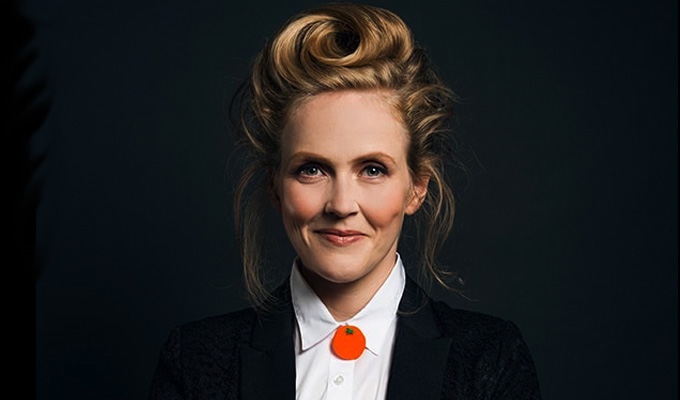 Pippa Evans:Joy Provision
With a title like Joy Provision, Pippa Evans is pretty unambiguous in her aims, and serves up a variety pack of early-afternoon entertainment to offer cheerful distraction from the bleak times outside. Like a Vera Lynn for the Brexit age.
Indeed, there's something of the music hall about her enforced jauntiness, with a song for every occasion and decent, if slightly less assured, stand-up between them.
The hodgepodge nature of the show, with a succession of set pieces only loosely linked, means it isn't the most consistent of hours. The quiz show section about motorway service stations, for instance, is simply terrible, just as dull as the premise suggests – but that's an outlier.
There are running gags about the great Oasis v Blur war of the 1990s, and how being clued into the news is like playing dodgeball with a bombardment of information: a good excuse to make 'Rupert Murdoch's balls' a catchphrase, if also a nightmare-inducing mental image
And while the show appears to have no theme, the subtext is about subtext: the significance of the wink in signifying innuendo, Susanna Reid's eyeroll to whatever boorish comment Piers Morgan dribbles out, teenage girls who can make the most catty comment sound sweet, the sinister tone to Don't Worry Be Happy if you sing the lyrics in the right way…. Such disconnect between what we say and the way we say it, is why we prefer the bastards to the nice guys, she argues: we know there's no hidden meaning with the former.
Evans attracts a slightly older daytime crowd – drawn, perhaps, by her appearances on Radio 4. She is, of course, also in top-notch improvised musical Showstoppers! and here does a one-woman version – with apologies for the keyboardist and percussionist accompanying her – by wittily riffing a song based on one of the punters.
Musical numbers are the high points of the show, such as the tribute to the aforementioned Ms Reid for having to suffer Morgan at close quarters every morning, or the catchy homage to Chas n Dave. But spoken material about her morals proves less memorable.
She saves the best till (almost) last with a finale in which she reenacts a whole day – right through to drunken, regretful sex – through the songs in her headphones, mimicking the likes of Alanis Morissette, Norah Jones, Freddie Mercury and the Bangles as she does. It's something of an appropriation of Jess Robinson's signature piece, albeit with slightly less accurate impressions, but it works in spreading that happiness. Almost as much as the heavily trailled singalong of Don't Look Back In Anger we could all see coming.
If that doesn't provide the joy, it's probably on you.
Review date: 21 Aug 2017
Reviewed by: Steve Bennett
Recent Reviews
What do you think?