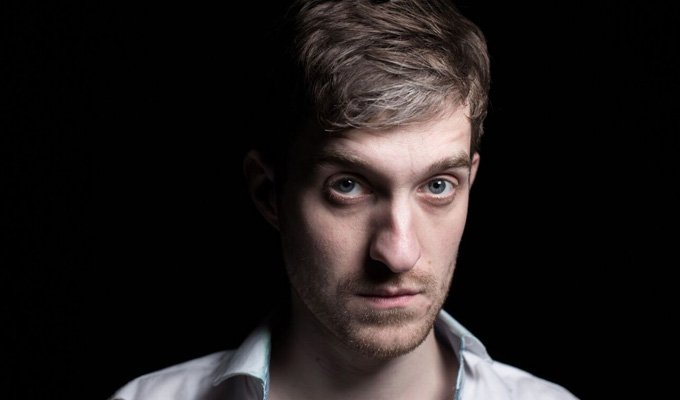 Joseph Morpurgo: Hammerhead
Note: This review is from 2017
My! Joseph Morpurgo's Fringe show is almost as ambitious as the nine-hour, multi-venue, multi-lingual one-man production of Frankenstein that it's supposed to be about.
The premise is that we are all at a post-show Q&A with the creator of this challenging, avant garde theatrical reimagining of Mary Shelly's classic. Members of the Edinburgh audience are co-opted to ask some questions of the auteur, in heavy theatrical make-up and ragged clothing, which get increasingly surreal, while others come in via the internet and some very unlikely communication platforms.
There are clear parallels with the original Gothic story and what we see on stage, an unhinged, obsessive and pioneering thinker undone by vanity as he creates a monster he cannot control.
Also, the whole endeavour is just a bit strange and creepy, and deploys the technology of the age. For Hammerhead is a meticulously put-together multi-media extravaganza of high concept and even higher laugh count. In contrast to the ad-libbing Morpurgo does so well in the improv hit Austentatious, here everything is timed to the second, making a virtue of the precision engineering underpinning the depiction of a man whose own mental construction is beginning to look increasingly rickety.
His alter-ego is initially a boilerplate parody of a precious, conceited luvvie, impervious to criticism of his vanity project. But as practical realities start to impinge on his highfalutin dream, not least the consequences of some ill-advised crowdfunding, the pressures take their toll.
It's another powerhouse performance from Morpurgo – who has a comic physicality that means he can put his feet up on a table and it be funny – as he starts to rant and rave at criticisms of his financially draining production and the folly of the whole endeavour is exposed.
The satirical script sparks with brilliant ideas. His lo-tech poster for the production is a work of daft genius, the musical he had to write to appease a chartered surveyor benefactor is ridiculously silly, and the idea of crashing into the next preposterous show in the venue is surely unique. And that's just three of scores upon scores of jokes large and small crammed into the hour,
If there is some criticism, it's that Hammerhead is perhaps a little too pleased with itself, though it has good reason to be.
Review date: 20 Aug 2017
Reviewed by: Steve Bennett
Recent Reviews
What do you think?